We may earn money or products from the companies mentioned in this post.
Wine of the Month, Three Lakes Winery and Vineyard
Old Glory Wine
Old Glory is a blend of Cranberry Wine and Blueberry Wine, made from the Native Berries Of America. Given the name "Old Glory" to honor the two berries native to America and a tribute to our Nation. Old Glory is a delicious blend of both berries. A semi-sweet wine, enjoyed with dessert such as: Berries on a Cloud a.k.a. Pavlora
Three Lakes Winery is Located
Located in the Old Chicago Northwestern Train Depot, Three Lakes Winery offers you a whole new world of wine. Take a free guided tour, and see wine being made during the winery tour, sip a sample of wine and shop at the Winery Gift Shop. Stop by the picturesque town of Three Lakes in the Beautiful Northwoods of WI.
Hours: Free guided tours on the hour, 10 am-4 pm May-October. Self-guided tours year round. Winery Gift Shop: Mon-Sat. 9-5 Sun. 10-4:30. To receive updates and to find out whats happening at the Winery, check out and "like" Three Lakes Winery facebook page: Three Lakes Winery Facebook 
Stop By the Winery and Sample the Wine and Delicious Cheese
If you get a chance to stop at Three Lakes Winery for a tour and tasting, you can sample some of the gourmet cheese spreads made specially for Three Lakes Winery, using wines from the winery, of course!
Blueberry Wine Bleu Spread~
This unique blend is offered only by Three Lakes Winery, and is made exclusively for Three Lakes Winery. If you are a bleu cheese lover and/or a blueberry lover, you will flip over this creamy cheese spread. Recipe Idea~ A small scoop slowly melting over a grilled T-bone steak.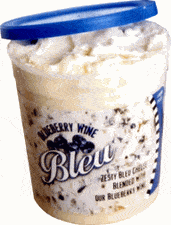 Cranberry Wine Cheddar Spread~
Cranberry Wine Cheddar Spread is made specially for Three Lakes Winery in Newton WI. Three Lakes Winery award-winning Cranberry Wine is blended with aged cheddar cheese to produce this delicious cheese spread. Recipe idea~ Spread a generous amount over a grilled Hamburger.
Blackberry Wine Swiss Spread~
Marion Blackberry Wine blended with a rich buttery Wisconsin Swiss Cheese. A very unique cheese spread sold only at Three Lakes Winery. Recipe idea~ Spread Blackberry Wine Swiss Spread on both sides of dark pumpernickel bread, to add a new twist on an old classic, The Reuben Sandwich.
Elderberry Wine Horseradish Spread~ Elderberry Wine Horseradish Spread is a New Addition to the custom cheese spread collection. Three Lakes Winery savory Elderberry Wine is blended with sharp cheddar cheese and horseradish cheese. Recipe idea~ Try this delicious cheese spread on buttery crackers to taste the pure flavor of this cheese spread.
*Note: This is not a sponsored post. The views and opinions stated here are my own. I have not been compensated in any way from Three Lakes Winery or any company mentioned in this post* Cheese Spread photos: Three Lakes Winery
https://www.turnips2tangerines.com/2015/12/wine-of-month-2.html