We may earn money or products from the companies mentioned in this post.
Pumpkin Waffles
Looking for a fantastic recipe for the upcoming Pumpkin Season? Look no further, this recipe for Pumpkin Waffles is delicious. The pumpkin is a member of the gourd family which also includes all varieties of melon, watermelon and squash. Its orange flesh has a mild, sweet flavor. Pumpkin seeds, also know as pepitas, are most often roasted.
Canned Pumpkin
Pureed pumpkin is available canned and is most commonly used in recipes. Pureed canned pumpkin shouldn't be confused with pumpkin pie filling which has spices and sometimes sugar added to the mix. Canned pumpkin can be added to any batter to make bread, muffins, waffles and/or pancakes.
 A Word About Waffles
Waffle [WAHF-fuhl] The honeycombed surface of this crisp, light bread is perfect for holding pockets of syrup. Waffles are made by pouring a light batter onto one side of a waffle iron, a special hinged cooking utensil with two honeycomb patterned griddles. The second side is closed over the batter and the waffle is cooked until browned and crisp.
Belgian Waffles
Belgian waffles which are often heaped with fresh strawberries and whipped cream, are made on special waffle makers with particularly large, deep grids. Most modern waffle irons have non-stick surfaces. Waffles are popular not only for breakfast, but for dessert as well. Savory waffles can be topped with creamed meat or vegetable mixtures.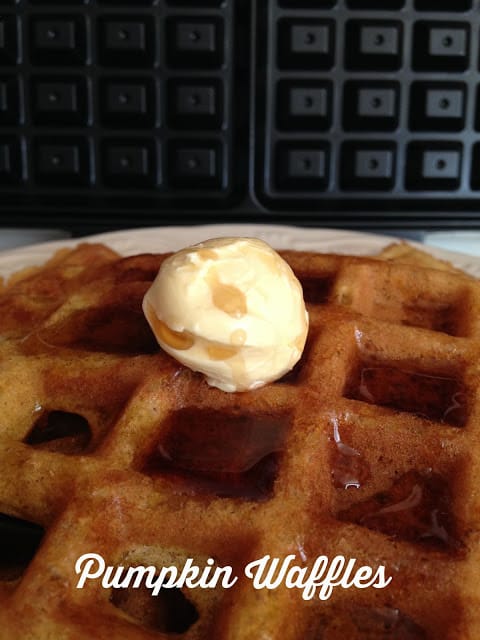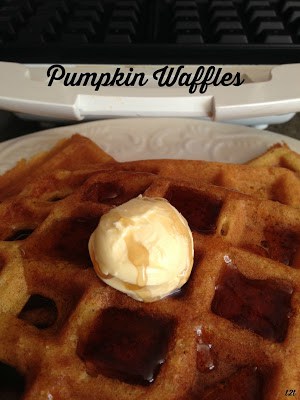 Ingredients
2 1/2 cups




flour

1/3 cup




light brown sugar, packed

2 1/4 teaspoons




baking powder

1 teaspoon




baking soda

1/2 teaspoon




salt

2 teaspoons




ground cinnamon

1 teaspoon




ground ginger

1/4 teaspoon




ground cloves

4




eggs, separated

2 cups




buttermilk

1 cup




pumpkin puree

3/4 stick




butter, melted
Cooking Directions
Whisk together flour, brown sugar, baking powder, baking soda and spices. In a separate bowl, whisk together the egg yolks. buttermilk, pumpkin puree, and melted butter. Add the dry ingredients, whisk until just combined.
In a separate bowl, whisk egg whites until soft peaks form, fold into the batter until just combined. Cook according to your waffle makers instructions.
Candy Corn Waffles are a super fun way to serve waffles. For this recipe we used Libby's Canned Pumpkin