We may earn money or products from the companies mentioned in this post.
Wine of the Month Orchard Country Winery and Market
Wine of the Month Orchard Country Wine and Market is a great place to visit while in the Door County Area. There is so much to see and do while visiting the Winery. Wine tasting is a must and shopping and sampling in the market is a great place to purchase pie filling, jams, salsa and so much more.
Take a Tour
Looking for something to do this week-end? Why not take a drive to Door County WI. Stop at one of the many Wineries located in Beautiful Door County. Take a tour of a winery then stop and sample some of the best Wines you will ever taste. A Door County specialty and our favorite is Cherry Wine. Made from Door County Cherries of course. Stop by our Wine of the Month Orchard Country Winery and Market selection.
Lighthouse Wine Series
Lautenbach's Lighthouse Wine Series is in its 11th series due out June 2019. The wine bottles are blue and are in the shape of a lighthouse. The bottles themselves are really detailed and works of art in their own right. Each edition has a label that is designed by a local artist.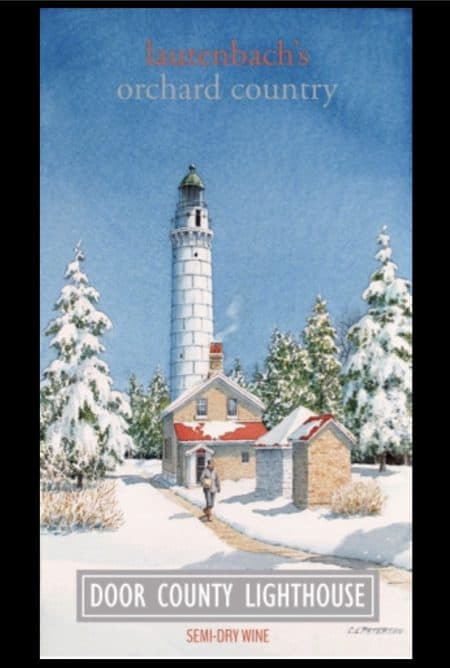 Charles Peterson
The winery collaborated with nationally acclaimed artist Charles L. "Chick" Peterson on the label commemorating Cana Island Lighthouse off Baileys Harbor, one of the most illustrated and visited lighthouses on the Door peninsula. Housed in a blue, lighthouse-shaped bottle, the limited-edition wine is a semi-dry cherry riesling.
Peterson is best known for his "Memories Collection" and many of his paintings depict maritime or rural settings, with people being a main focus. I have a painting by Peterson called, "To Grandma's House," and it's a family favorite. "I'm very interested in history and the stories of the light keepers," Peterson said. "This project was a new direction for me and a way to help preserve the impact of lighthouses on Door County history."
Timeless Series
"We're excited to have the opportunity to work with such an amazing artist," said Orchard Country Director of Marketing Carrie Lautenbach-Viste. "He is a wonderful storyteller both in person and on canvas. His artwork is timeless and his rendition of Cana Island will be an iconic keepsake in our series."
Lautenbach's Orchard Country  is at 9197 State 42, Fish Creek. The market and tasting room is open year-round; Call for current hours and for more information, call 866-946-3263 or visit www.orchardcountry.com. Originally published on 
For more Wine of Month Wineries: von Stiehl Winery  and Chateau St Croix.