Two Delicious Puffcorn Recipes
Today we are sharing two delicious puffcorn recipes. If you're from the Upper Midwest you are no doubt familiar with Old Dutch Snacks. Old Dutch makes a delicious snack called: Puffcorn. Puffcorn is the star ingredient in both of the recipes featured here. Caramel Pecan Puffcorn and Peanut Butter Peanut Puffcorn. Both puffcorn recipes are easy to prepare and oh so delicious.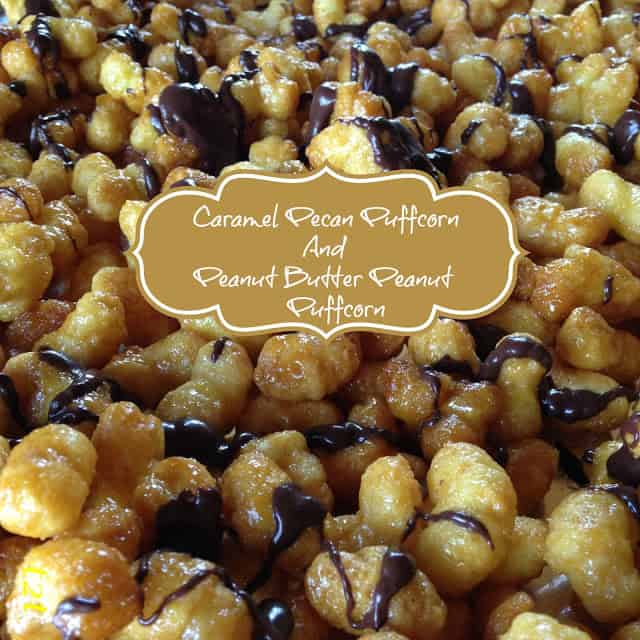 What is Puffcorn??
Old Dutch says it best.."Our popcorn is puffed full of pure goodness with a light and delicious popcorn flavor. It melts in your mouth and has no hard kernels or hulls. And like all Old Dutch snacks, our Puffcorn is always homegrown and delivered from the heart of the Upper Midwest." If you can't find Old Dutch Products in your area, Frito Lay has a snack called Chester's Puffcorn
Chester's Puffcorn is a great alternative to Old Dutch Puffcorn. It can be found throughout the US. Chester's is also very inexpensive. Usually sold for around $2.00 a bag. Since puffcorn doesn't contain hard kernels or hulls, it's wonderful for people who suffer from diverticulitis or other digestive issues.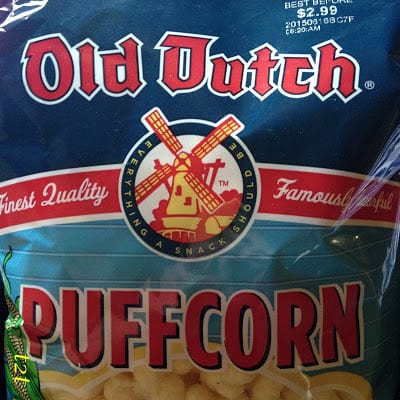 Looking for More?
Looking for more snack recipes? Try some Goblin Grop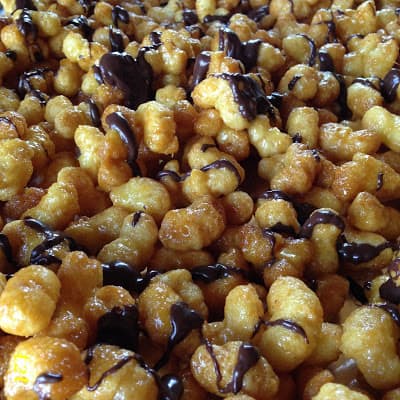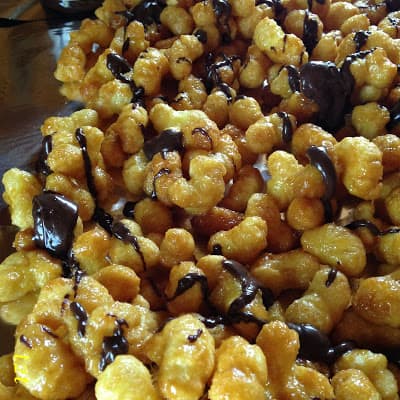 Ingredients
1 bag




Old Dutch Puffcorn

1 cup




butter (Not Margarine)

1 1/4 cups




brown sugar

2/3 cup




light corn syrup

1 teaspoon




baking soda

pinch of




salt

1 cup




pecan halves

1/2 of a 13 ounce container




Hershey's chocolate spread
Cooking Directions
Preheat oven to 250º F.
Combine butter, brown sugar, and light corn syrup in a 2 quart sauce pan.
Cook on medium heat until butter has melted and sugar is dissolved.
Add the baking soda and salt if using. (Note: This will cause the mixture to foam)
In a large roaster pan, pour Old Dutch Puffcorn and pecans.
Pour caramel mixture over the puffcorn/pecans, stir until combined.
Place in the oven for 45 minutes, stirring every 10 to 15 minutes.
Remove from oven. Pour mixture onto waxed paper lined counter top.
Place Hershey's chocolate spread in a glass measuring cup.
Microwave for 30 seconds, stir.
Repeat until melted, pour over puffcorn.
Break up puffcorn when cool.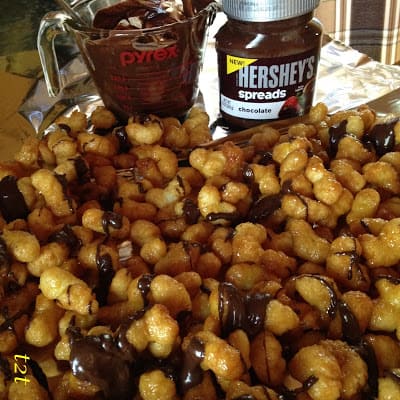 Ingredients
1 bag




Old Dutch Puffcorn

3/4 cup




butter, (Not Margarine)

1/4 cup




peanut butter

1 1/4 cups




brown sugar

2/3 cup




light corn syrup

1 teaspoon




baking soda

pinch of




salt

1/2 cup




chopped salted peanuts
Cooking Directions
Preheat oven to 250º F.
Combine butter, peanut butter, brown sugar, and light corn syrup in a 2 quart sauce pan. Cook over medium heat, stirring until butter has melted, sugar has dissolved and mixture is smooth.
Bring to a boil, cook for 1 minute, stirring constantly. Add the baking soda and salt if using. (Note: This will cause the mixture to foam)
In a large roaster pan, pour Old Dutch Puffcorn and salted peanuts.
Pour peanut butter mixture over puffcorn/peanuts.
Stir until combined. Place in the oven for 45 minutes, stir every 10-15 minutes.
Remove from oven. Pour mixture onto waxed paper lined counter top.
Break up when cool