We may earn money or products from the companies mentioned in this post.
Food Finds: Efferve Sparkling Lemonade and Tom Collins
June Food Finds: EFFERVE Sparkling Lemonade and EFFERVE Sparkling Pink Rose Sparkling Lemonade is a wonderful, thirst quenching lemonade. Perfect on a hot summer day relaxing on the patio or after a round of golf. This delightful sparkling lemonade makes the perfect Tom Collins…a retro cocktail popular in the 50's, 60's and 70's. Put your feet up and sip a Tom Collins on a hot summer evening.
What a better way to enjoy this tasty, bubbly lemonade than to make one of my favorite "Retro" cocktails, a Tom Collins.  A Tom Collins is a cool, refreshing drink, popular when I was young, waaay back when. The Tom Collins is a Collins cocktail made from gin, lemon juice, sugar and carbonated water. First memorialized in writing in 1876 by the father of American mixology, Jerry Thomas.
Even though this drink has been around for many years, it has been somewhat forgotten about. Maybe it's time the Tom Collins makes a come back,
after all, it's the perfect summertime drink. This Tom Collins is a gin and sparkling lemonade drink, is typically served on the rocks in a tall Tom Collins glass. Standard garnish is:  lemon, orange or lime slices and maraschino cherries.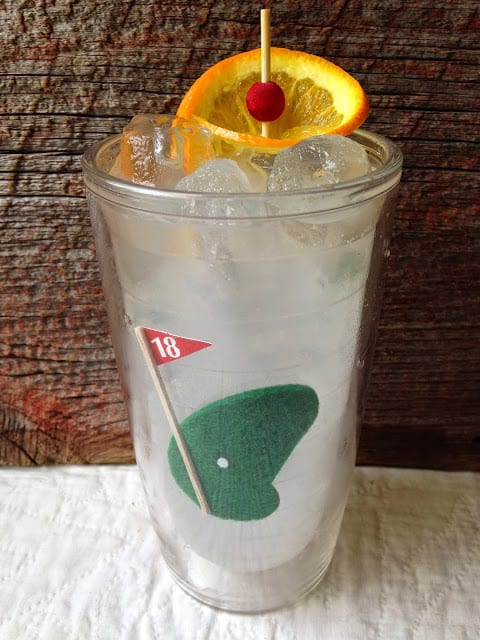 A Recent Trip To….
I have a confession to make….the only reason why I bought Efferve Sparkling Lemonade was because I wanted the bottle. On my recent trip to Aldi I spotted these wonderful decorative bottles on the shelf. Here at Turnips 2 Tangerines, we have been making different flavors of vinegar.The minute I spotted the bottles, I they would be perfect filled with flavored vinegar.
The bottle is perfect for gift giving. At $2.49 a bottle, this was a real bargain and it was filled with sparkling lemonade.I opened a bottle and was greeted with a loud pop and a whish. I couldn't believe how bubbly the lemonade was. I was even more surprised when I tasted the lemonade. Bubbly, refreshing, with a nice lemony flavor. Not at all overly sweet, like many lemonades nor overly sour like others.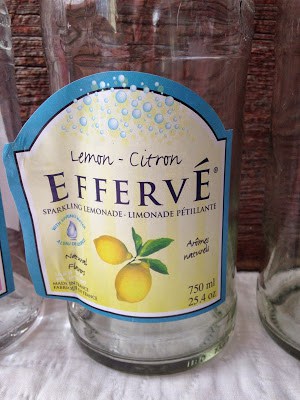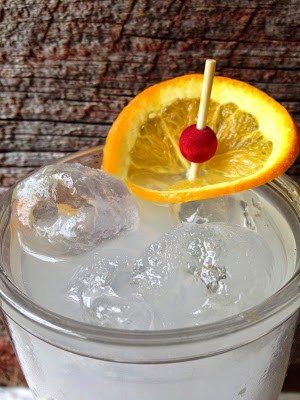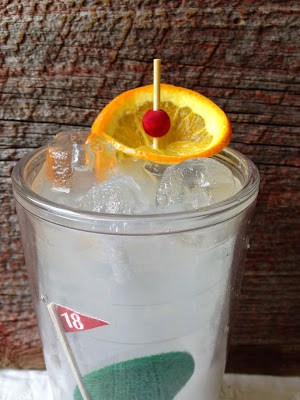 Ingredients
2 ounces




gin (Tanqueray or Old Tom)

sparkling




lemonade (Efferve')

shaved




ice

tall




glass, (Tervis Tumbler)

lemon, orange or




lime slices
Cooking Directions
Fill a tall tumbler with ice. Pour Gin over ice.
Fill glass with Effervè Sparkling Lemonade. Stir.
Garnish with: lemon, orange or lime slices.
Ingredients
1 ounce (2 parts)




freshly squeezed lemon juice

1 1/2 ounce (3 parts)




gin (Tanqueray or Old Tom)

1/2 ounce (1 part)




simple syrup

2 ounce (4 parts)




carbonated water

shaved




ice

Tom Collins




glass

lemon, orange,




lime slices, 

maraschino




cherries
Cooking Directions
Mix the gin, lemon juice, and simple syrup in a tall Tom Collins glass filled with ice.
Top it off with carbonated water
Garnish with: lemon, orange, lime slices and maraschino cherries.
Wine of the Month: Chateau St. Croix Winery