We may earn money or products from the companies mentioned in this post.
Cherry Peach Clafoutis
This delicious French Dessert is made easy with Bisquick. Fast, delicious and made in a cast iron skillet. I'm sure how the French will feel about this recipe….with the addition of Bisquick, but this version of clafoutis turned out delicious.  Clafoutis can be made with just about any fruit or fruit combinations. We really like combining cherries and peaches or plums and peaches. Fruit that sometimes is overlooked.
What is a Clafoutis?
Clafoutis is a baked French dessert of fruit, traditionally black cherries. The fruit is then arranged in a buttered dish or cast-iron skillet and covered with a thick flan-like batter. A clafoutis pronounced "kla-FOO-tee" is a rustic French baked dessert, made by baking cherries in a custard-like batter, similar to pancake batter. Here is another recipe for Cherry Clafoutis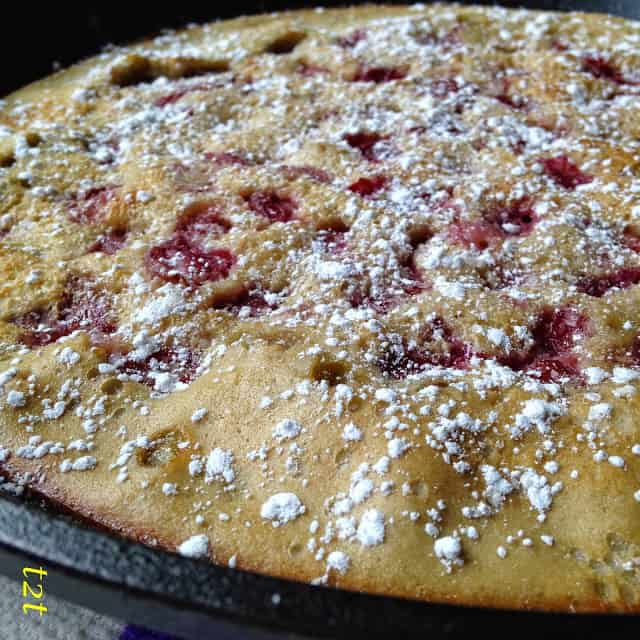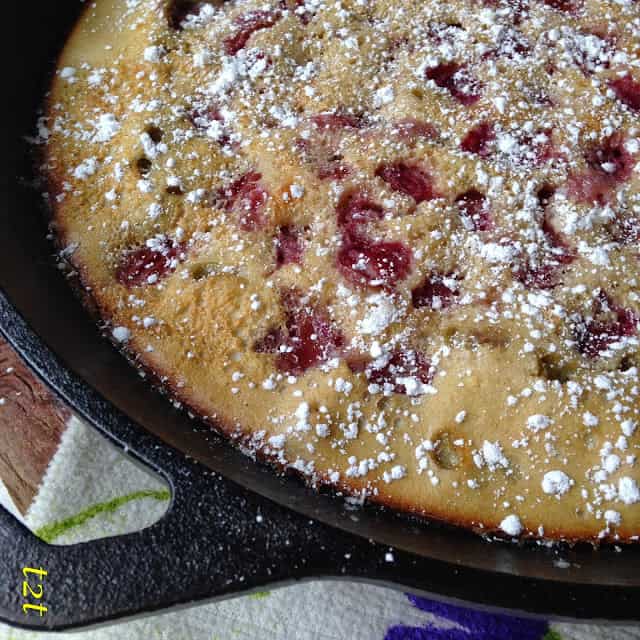 Traditionally Clafoutis
Are specifically made with black cherries although many clafoutis variations include other fruits such as: plums, prunes, blueberries, blackberries, raspberries, peaches or apples.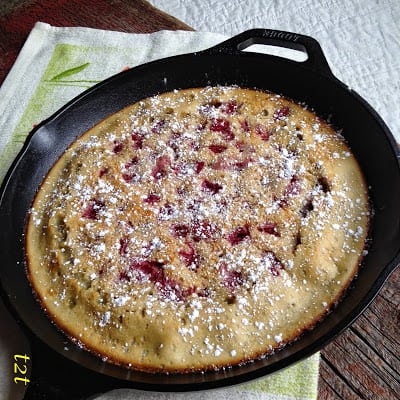 Ingredients
1 can (14.5 oz)




pitted tart red cherries in water, well drained

1 can (15.25 oz)




sliced peaches, in syrup, well drained

1/3 cup




silvered almonds

2/3 cup




Original Bisquick Baking Mix

1/2 cup




sugar

1 cup




milk

1 teaspoon




cherry juice or kirsch

1/2 teaspoon




almond extract

3




eggs

2 teaspoons




powdered sugar, for dusting
Cooking Directions
Heat oven to 350 degrees. Spray a 10″ cast iron skillet with non-stick spray.
Evenly distribute cherries, peaches and almonds in the bottom of skillet.
Beat Bisquick mix, sugar, milk, cherry juice or kirsch, almond extract and eggs with an electric mixer on medium speed for 2 minutes. Pour over fruit.
Bake for 35 to 40 minutes or until a knife inserted in center comes out clean.
Sprinkle with powdered sugar.
Serve warm.
Brie Fondue is always a fun and welcomed sight at any party.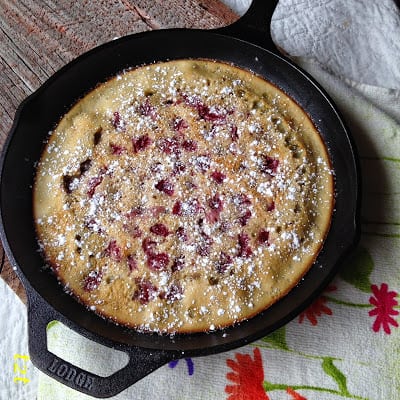 This recipe was made with Bisquick