We may earn money or products from the companies mentioned in this post.
Cherry Clafoutis
Cherry Clafoutis is fantastic. This was my first time making a Clafoutis and it won't be the last…It's Delicious! Cherry Clafoutis is made in a cast-iron skillet and makes a perfect fast and easy dessert. Most often made with cherries but can be made with any "stone" fruit.
Clafoutis
Clafoutis; clafouti [kla-foo-TEE] Priginally from the Limousin region, this country-French dessert is made by topping a layer of fresh fruit with batter. After baking it's served hot, sometimes with cream, Some styles have a cakelike topping while others are more like a pudding. Though cherries are traditional, any fruit such as plums, peaches or pears can be used.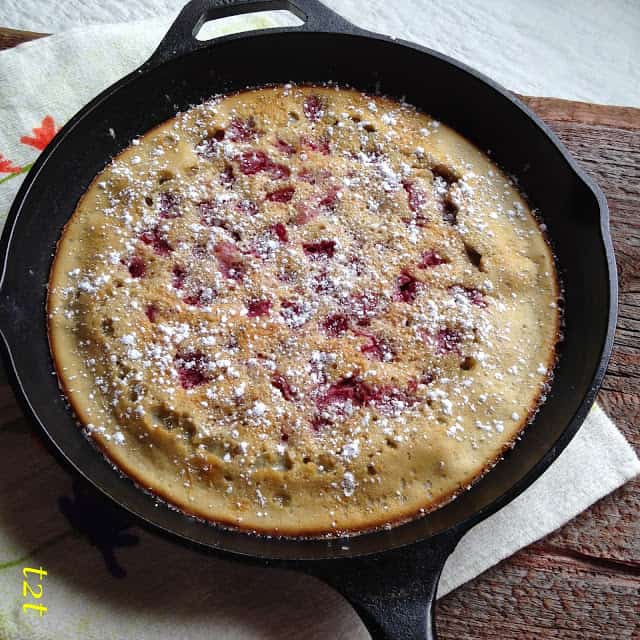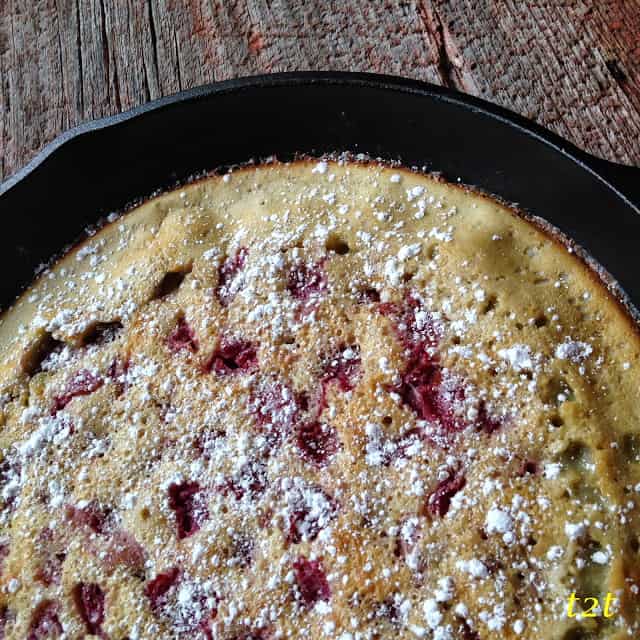 Cherries in WI
In 1950 there were about a million cherry trees in Door County. This region is still known for its wonderfully tart cherries. Sturgeon Bay is the host of Cherry Blossom Week in May. Although most of the cherries canned from the harvest go into pies, they are also used to make great sauces to serve with baked ham. Dried cherries and chocolate covered cherries are a T2T favorite:)
Sour Cherries
Sour cherries are smaller, softer and more globular than the sweet varieties. Most are too tart to eat raw, but make excellent pies, preserves and the like. The bestselling sour cherry varieties are the bright red Early Richmond, the first cherry available in the late spring, Montmorency and the dark mahogany Red Morello.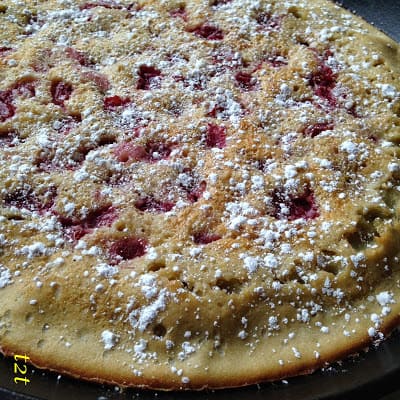 Ingredients
1 tablespoon




unsalted butter, softened (for greasing the pan)

1 1/4 cups




milk

6 tablespoons




sugar

2 tablespoons




cherry juice

1 tablespoon




vanilla extract

6




eggs

pinch of




salt

3/4 cup




flour

1 can (14.5 oz) pitted




tart red cherries in water, well drained

2 teaspoons




powdered sugar, for dusting
Cooking Directions
Heat oven to 425° Grease a 10″cast iron skillet with butter. Set aside.
Combine milk, sugar, cherry juice, vanilla, eggs and salt with an immersion blender for a few seconds to mix. Add flour and blend until smooth about 1 minute.
Pour batter into buttered skillet, distribute cherries evenly over the top.
Bake until a toothpick inserted in the center comes out clean or a golden brown crust has formed on the top and bottom of the clafoutis, about 30 minutes. Remove from oven.
Dust with confectioners' sugar.
Serve warm with ice cream