Yogurt Apple Pancakes
Yogurt Apple Pancakes are the best pancakes you will ever make! Tender, moist and fluffy…just the way a pancake should be. Not only are these the best pancakes you will ever make…they are the best pancakes you will ever eat…and they are the easiest pancakes you will ever make. Sounds like a win, win to me! Made with only 5 ingredients..buttermilk pancake mix, apple pie filling, ground cinnamon, milk and "stained yogurt."
Star Ingredient
The star ingredient in this recipe is "strained yogurt." Strained yogurt is super easy to "do" and the result is a super thick, spreadable yogurt that has the consistency this is slightly thicker than that of sour cream. Last week-end I made my hubby Yogurt Apple Pancakes. He loved them. He is my official pancake tester and he said these were the best pancakes yet. Not bad coming from a man who has tested alot of pancakes.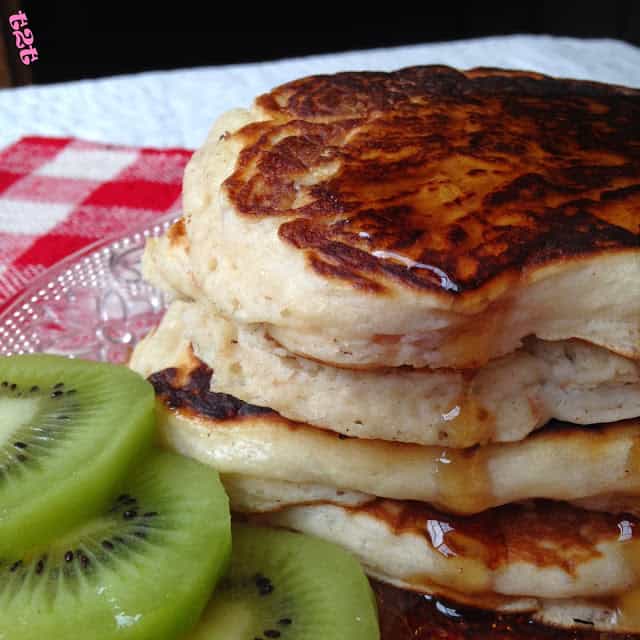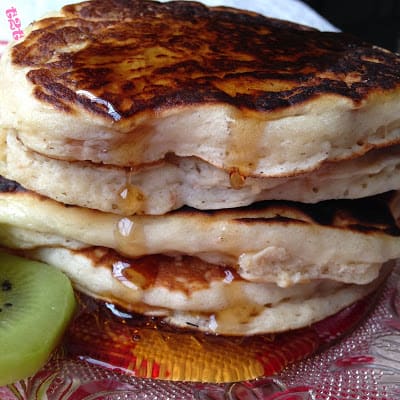 Ingredients
2 cups




buttermilk complete pancake mix

1 cup


strained yogurt, direcctions here: How to Stain Yogurt

1/2 to 1 cup




water

1/2 teaspoon




ground cinnamon

1 cup




apple pie filling
Cooking Directions
Remove apples from pie filling, dice apples.
Measure diced apples to make 1/2 cup.
In a medium bowl, stir together pancake mix, strained yogurt, cinnamon, and apples.
Add 1/4 cup of water at a time, stirring well after each addition.
Add more water and continue to stir until desired consistency.
Heat a large griddle to 350 degrees.
Pour a small amount of oil on griddle, wipe off excess with paper towel.
Ladle a 1/4 cup of the batter onto hot griddle.
Cook until bubbles appear on surface.
Turn pancakes over.
Cook until pancakes are brown on both sides.
Continue with remaining batter.
Serve pancakes with maple syrup and fresh fruit.