We may earn money or products from the companies mentioned in this post.
Sourdough Kaiser Rolls
Sourdough Kaiser Rolls are fantastic. Light, tasty and tangy. The perfect vehicle for a grilled burger. Not only are these super tasty, they're relatively easy to make too. Scroll down to see the pictures shown after the recipe:)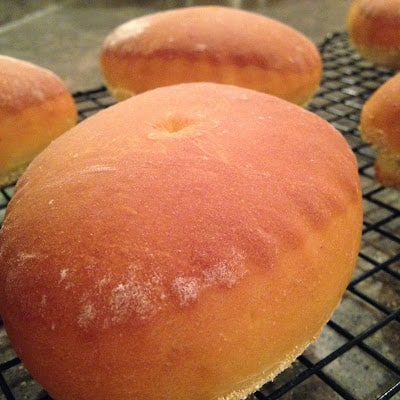 Hamburger Buns
Sourdough Kaiser Rolls make the perfect hamburger buns. Close your eyes and just imagine a thick, delicious, juicy, grilled hamburger. Served on a home-made, toasted, buttered sourdough kaiser roll. Now open your eyes, head to the kitchen and
make your very own sourdough kaiser rolls. This is yet another fantastic sourdough recipe from the even more fantastic sourdough cookbook by Kathy Doogan. I never thought when I started my sourdough journey seven years ago I would be making delicious, from scratch sourdough rolls, that actually tasted good!!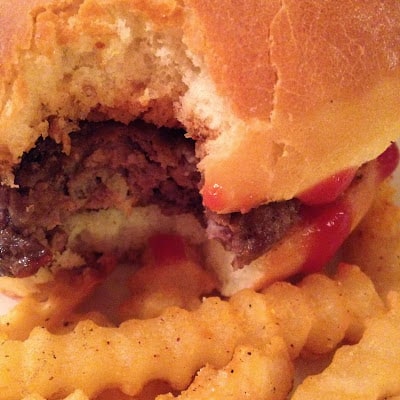 Sourdough Bread
Sourdough bread is a bread with a slightly sour, tangy flavor created by using a special "wild" yeast starter as the leavener. San Francisco is known for its superior sourdough bread and many food stores in the area sell packages of dry sourdough starter for home bread bakers. Though most sourdoughs are made from all-purpose flour, there are many delicious variations including those made from whole-wheat or rye flour.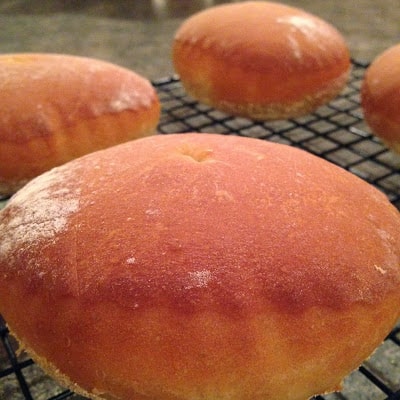 Sourdough Kaiser Rolls
Delicious roll, perfect for hamburgers.
Keyword:
rolls, sourdough
Ingredients
2 to 3

cups

flour

1/4

cup

warm water

1

teaspoon

yeast

1

teaspoon

salt

3

tablespoons

sugar

2

eggs

1 1/2

cups

sourdough starter, fed

cornmeal for baking sheet
Directions
Sprinkle yeast over warm water in a small glass bowl.

Let stand about 10 minutes and small bubbles form.

Sift 2 cups of the flour, salt and sugar into a large bowl. Add yeast mixture, eggs and starter; mix well. Add as much of the remaining flour as you can stir in. Turn dough out onto a well floured board. Knead for 5 minutes or until smooth and elastic, kneading in additional flour if needed to prevent sticking.

Place dough in a lightly greased bowl. Cover loosely and set in a warm place until doubled in size, 1 to 1 1/2 hours. Turn dough out onto a floured board, knead 8 to 10 times.

Pat or roll dough out about 3/4 " thick. Let dough rest about 10 minutes. Cut with a floured biscuit cutter 4" in diameter. With your finger, poke a hole in the center of each round. Do not widen holes, they are supposed to close up again during rising and baking.

Place rounds at least 2" apart on baking sheets, generously dusted with cornmeal to prevent sticking, cover loosely and let rise until light and puffy, about 1 hour.

Bake at 375 for 20 to 25 minutes, or until golden brown. Cool completely on racks