We may earn money or products from the companies mentioned in this post.
Pfeffernüsse Cookies with Spiced Powdered Sugar
December 23rd is National Pfeffernüesse Day! Let's celebrate by learning more about these little holiday cookies. Pfeffernüsse Cookies with Spiced Powdered Sugar are a true classic cookie. Pfeffern‍üsse cookies are great for dunking into hot mulled cider, mugs of hot tea, hot chocolate or a steaming mug of Glühwein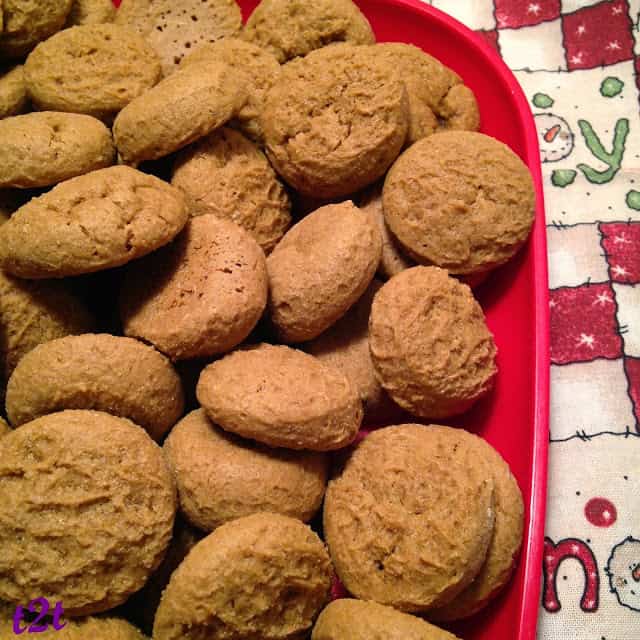 Pfeffernuesse Information
Pfeffernüesse Cookies are one of the oldest and most popular holiday cookie in Germany, Denmark and The Netherlands. Known as Pepernoten in Dutch (plural), Pebernødder in Danish and Pepper Nuts in English. Pfeffernüesse cookies are so beloved in many European Countries that there is a National Pfeffernüesse Day, held each year on December 23rd in honor of these spicy little cookies.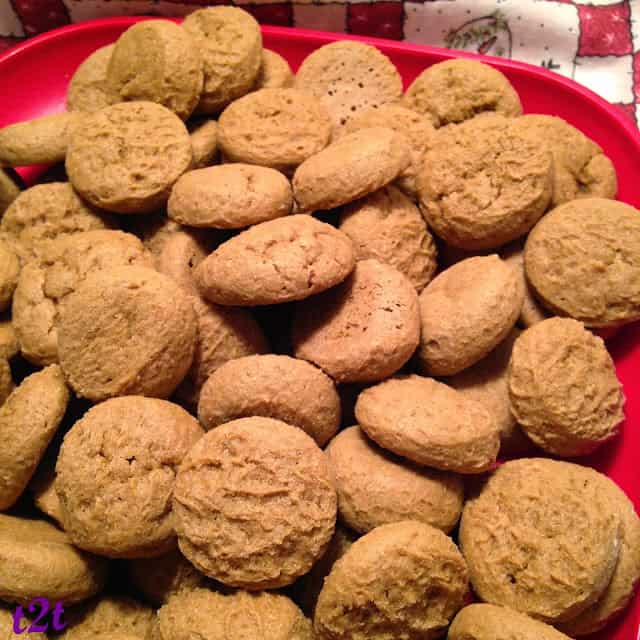 5 Food Facts about Pfeffernüesse~
Pfeffernüsse are a traditional Christmastime cookie whose name translate to "pepper nuts" in English.
Pfeffernüsse Cookies are spicy, small, round cookies, made with butter, molasses, and lots of spices.
Pfeffernüsse are hard when they come out of the oven but soften with time, if they last that long!
Pfeffernüesse cookies are a variant of the German Lebkuchen or gingerbread. Pfeffernüsse are a special treat left for children by St Nicholas.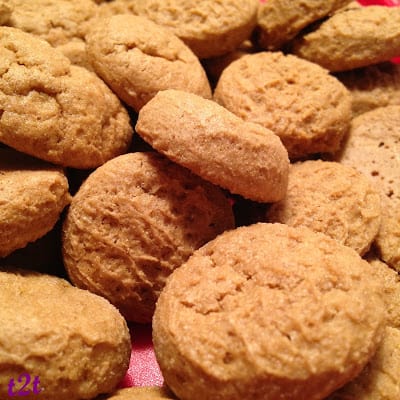 Too Roll or Not to Roll
Many recipes call for rolling or shaking each warm Pfeffernüesse cookie in a spiced powdered sugar mixture to coat. My Grandma made Pfeffernüesse cookies each and every holiday season but she never rolled her cookies in powdered sugar. I think she was trying to avoid a mess that her grandkids were sure to make while eating these tiny spicy cookies.
I have carried on her tradition of not dusting Pfeffernüesse cookies in spiced powdered sugar but feel free to do so if you wish. The recipe for spiced powdered sugar follows and its delicious. I have used spiced powdered sugar on Mexican Wedding cookies, among other things.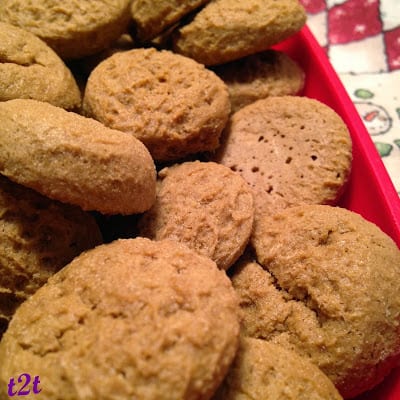 Pepper Nuts
Cuisine:
All-American, German
Keyword:
cookies, German, spicy
Ingredients
1/2

cup

molasses

1/4

cup

honey

1/2

cup

unsalted butter

4

cups

flour

3/4

cup

sugar

1/2

cup

brown sugar

2

teaspoons

ground cinnamon

1 1/2

teaspoons

baking soda

1 1/2

teaspoons

ground cardamom

1

teaspoon

ground allspice

1

teaspoon

ground nutmeg

1

teaspoon

ground cloves

1

teaspoon

ground ginger

1

teaspoon

freshly ground pepper

1/2

teaspoon

salt

2

eggs, slightly beaten

2

teaspoons

anise or vanilla extract

Spiced Powdered Sugar:

1

cup

powdered sugar

1

teaspoon

ground cinnamon

1

teaspoon

ground ginger

1/2

teaspoon

ground nutmeg

1/4

teaspoon

ground allspice
Directions
In a large heavy, non-reactive 1 to 1 1/2 quart saucepan, combine the molasses, honey and butter. Place the saucepan over low heat, stir until the butter has melted and all ingredients are completely combined. Stir until mixture is creamy. Do not boil. Remove the saucepan from the heat, pour the mixture into a large bowl. Set aside. Allow the mixture to cool to room temperature.

While the mixture is cooling, sift together the flour, sugar, brown sugar, cinnamon, baking soda, cardamom, allspice, nutmeg, cloves, ginger, black pepper and salt in a separate bowl. When the molasses mixture has reached room temperature, stir in beaten eggs and the anise or vanilla extract. With a large wooden spoon, gradually stir in the sifted dry ingredients. Stir until everything is thoroughly combined. Dough will be very sift. Chill dough for 2 hours or longer.

Preheat oven to 350 degrees.

Scoop out 1 to 2 tablespoons of cookie dough with a cookie dough scoop or melon baller. Roll cookie dough between the palms of your hands. Place dough balls onto parchment lined baking sheets, press down lightly.

Bake 12 to 14 minutes or until firm to the touch, remove from oven.

Cool cookies on sheets for 2 to 3 minutes. Transfer cookies to a cooling rack or *Shake in Spice Powdered Sugar* while still warm. Let cool completely. Store cookies in an air tight container
*If using Spiced Powdered Sugar*
1 cup powdered sugar
1 teaspoon ground cimmanon
1 teaspoon ground ginger
1/2 teaspoon ground nutmeg
1/4 teaspoon ground allspice
In a large bowl, mix together powdered sugar and spices
Place spiced powdered sugar mixture into a gallon size ziplock freezer baggie. Drop a few warm cookies into the mixture. Shake gently to coat. Repeat until all cookies are coated.
Kitchen Tip: *Spices*
Pfeffernüesse cookies call for the use of several different spices. If you live near a store that sells spices by the bulk such as Bulk Priced Food Shoppe, or Penzeys Spices, I would suggest buying just the amount of spices you will need. You can purchase bulk spices for as little as .10¢ per teaspoon.
If your looking for more German inspired recipes, we have quite a few here on Turnips 2 Tangerines. German Sour Cherry Cake is a real favorite. Germany is well know for their sweets. Cookies, Kuchen, Black Forest Cake is only the tip of the iceberg.