Cream Cheese Filled Dates Wrapped in Bacon
Welcome back to Football Friday and the Game Day Recipe. Dates are most often used in baking or sweet desserts but these Cream Cheese Filled Dates Wrapped in Bacon are sensational. Drizzle them with extra honey, and you have an appetizer fit for a king or queen. Dates are naturally sweet so they pair beautifully with honey and cream cheese. Wrapping them in bacon, genius. Mascarpone cheese can be substituted for the cream cheese.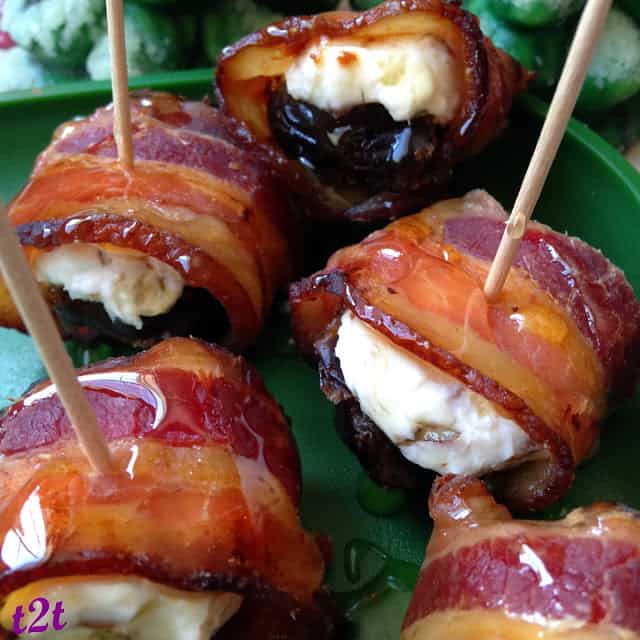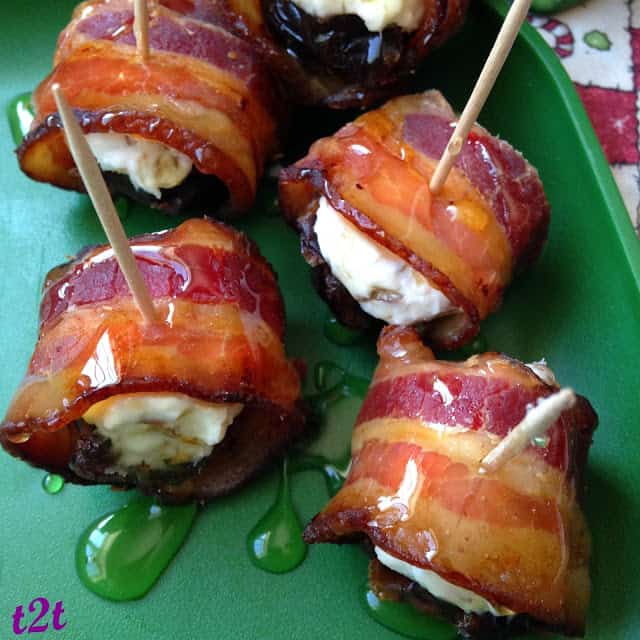 Bacon Bacon Bacon
Here on Turnips 2 Tangerines we love our bacon and we love to wrap just about anything in bacon and use bacon extensively in recipes. Bacon Stuffed Mushrooms, Bacon Wrapped Plums and Shrimp and Bavarian Bratwurst Wrapped in Bacon are just a few of the recipes we have here on T2T containing bacon. For more bacon recipes, check out our recipe box.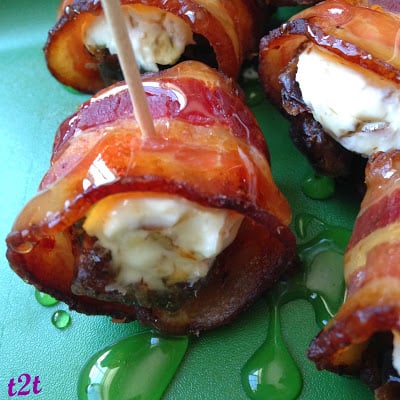 Cream Cheese Filled Dates Wrapped in Bacon
Ingredients
1 (8 oz) package




cream cheese, room temperature

1 tablespoon




honey, plus extra for drizzle

1/3 cup




chopped, toasted pecans

15 to 20




dates

9 to 10 slices




bacon, cut in half
Cooking Directions
In large bowl, beat cream cheese until creamy. Beat in honey until smooth.
Fold in toasted chopped pecans.
Cut a small slit in dates, do not cut through. Using you finger, open dates up slightly. Fill each date with cream cheese mixture. Set aside.
Fry bacon slices until crisp. Remove bacon from pan, drain on paper towels.
When cool enough to handle, wrap a half slice of bacon around each filled date.
Arrange dates, seam side down on microwaveable safe serving plate. Microwave on high for 25 seconds. Remove from microwave.
Drizzle honey over bacon wrapped dates. Serve immediately.
Dates can be found in the produce section of most grocery stores. Dates used in this recipe are Medjool Dates from Natural Delights