We may earn money or products from the companies mentioned in this post.
Turkey Havarti Bacon Panini
The first time I had a panini, it was a Cuban Panini  that ordered at a restaurant. For the life of me, I can't remember the name of the restaurant. Anyway, I may not remember the name of the restaurant but I sure remember the sandwich. It was love at first bite. Turkey Havarti Bacon Panini are super. Try making dessert-style panini for a delicious and change of pace from the usual meat-style panini.
Panini and Soup
Hands down, one of my favorite lunch consists of: half of a panini, a cup of homemade soup, handful of potato chips, a dill pickle and for dessert a couple of cookies. That sounds like a lot to eat but it really isn't. (Okay, minus the chips and cookies) Hope you enjoy this recipe for Turkey Havarti Bacon Panini. It's super delicious. There are so many different ways to prepare panini. Let your imagination run wild.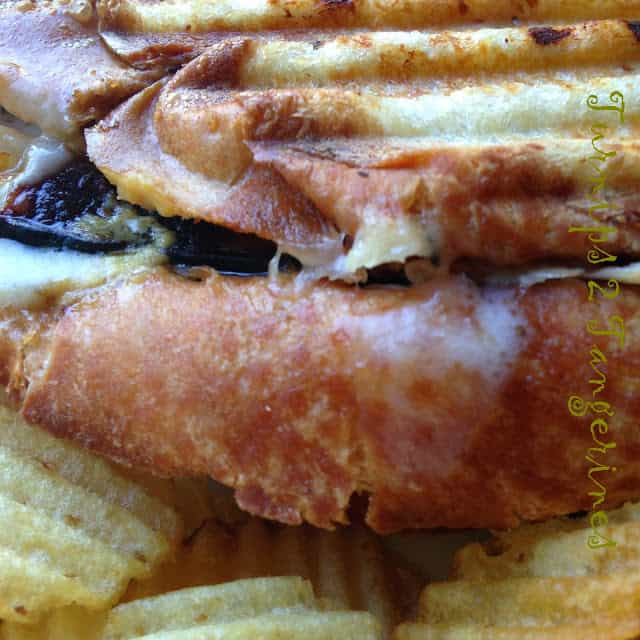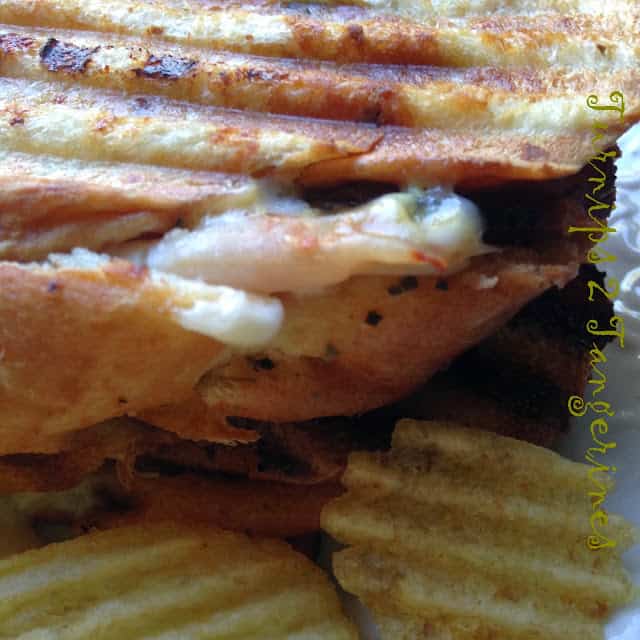 Ingredients Used
For this panini we used buffalo-style turkey breast and hickory-smoked turkey breast. Harvarti cheese which is a Danish cheese that is mild in flavor with a slight tang. A nice smokey, salty bacon completes the line up. Panini are usually made like a grilled cheese but a heavy weight is set on top the sandwich to weigh it down and to flatten it somewhat. One of my favorite panini recipes is a Cuban, which I need to make very soon. Panini is Italian for "small bread" referring to a sandwich or roll.
Turkey, Havarti and Bacon Panini
Delicious for lunch with a cup of soup, chips and a few cookies.
Course:
Bacon, Lunch, Sandwiches
Ingredients
4

tablespoons

butter

1/2

pound

deli buffalo-style turkey breast, shaved

1/2

pound

deli hickory-smoked turkey breast, shaved

8

thin slices

Havarti cheese

8

slices

bacon, fry until crisp, drain on paper towels

8

slices

french bread with garlic and herb topping

cut slices 1/2 inch thick, or use bread of your choice

2

tablespoons

olive oil mayonnaise or mayonnaise

2

tablespoons

Dijon mustard
Directions
Heat your panini press to medium-high heat or if you have a panini press like mine, when the green light goes on

Lightly spread mayo on bread slices; top one slice of bread with: buffalo-style turkey breast, bacon, cheese, mustard and hickory-smoked turkey breast.

Close the sandwich with the other slice of bread, butter top.

Place buttered side down on panini press, butter top slice.

Close lid and grill for 4 to 5 minutes or until cheese is melted and bread is toasted.
Panini Maker
For this recipe and any recipe for  panini, we use our Hamilton Beach Panini Press. One year for Christmas my daughter-in-law asked me what I wanted for Christmas. Panini maker or press popped out of my mouth. I've always wanted one but wasn't sure if I'd actually use it, but it was too late, Kim said, "Good, that's what I'll get you." I am so glad that I did! I love my panini maker and use it whenever I can. Panini Press by Hamilton Beach.