We may earn money or products from the companies mentioned in this post.
Rhubarb Orange Coffee Cake
It's Time for Rhubarb. I love rhubarb and coffee cake. Combine the two and you get delicious. Orange and rhubarb go surprisingly well together. Don't take my word for it, give this recipe a try and find out for yourself. Let me know in the comment section below if you did or didn't like rhubarb orange coffee cake.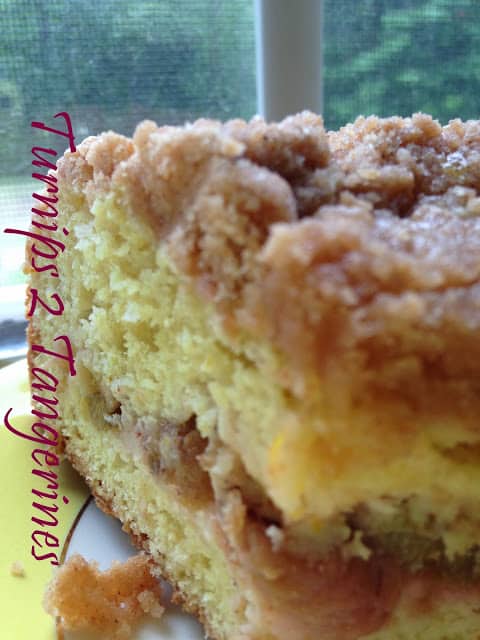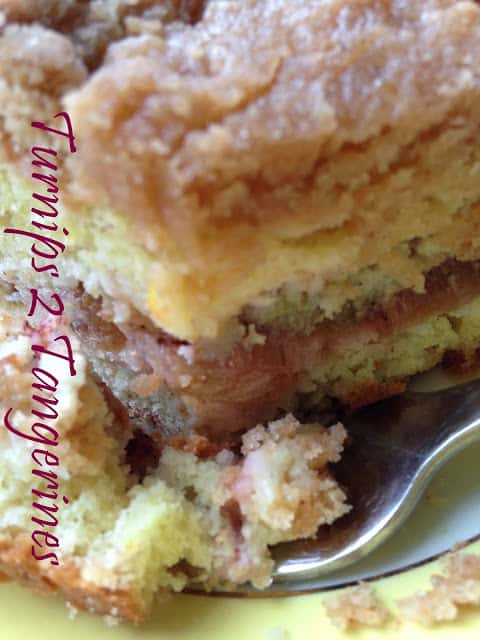 What is Rhubarb?
The thick celery-like stalks of the buckwheat family can reach up to two feet long. They're the only edible portion of the plant. The leaves contain oxalic acid and can therefore be toxic. Though rhubarb is generally eaten as a fruit, it's botanically a vegetable.  Because of its intense tartness, rhubarb is usually combined with a considerable amount of sugar. It makes delicious sauces, jams and desserts. In some regions it's known as pieplant because of its popularity for that purpose.
Rhubarb Orange Coffee Cake
A delicious coffee cake made with rhubarb.
Course:
Breakfast, Dessert
Keyword:
orange, Rhubarb, sour cream
Ingredients
2 1/4

cups

all-purpose flour

3/4

cup

sugar

1/2

teaspoon

baking powder

1/2

teaspoon

baking soda

1/4

teaspoon

salt

1/3

cup

butter, melted

2/3

cup

sour cream

2

eggs

1

tablespoon

orange juice

2

teaspoons

grated orange peel

1 or 2

cups chopped

fresh or frozen rhubarb

1

teaspoon

ground cinnamon

1/4

teaspoon

ground allspice

StreuselTopping

1/2

cup

flour

1/3

cup

sugar

1

teaspoon

ground cinnamon

3

tablespoons

cold butter

Icing

1/3

cup

confectioners' sugar

1

tablespoon

orange juice
Directions
In a large bowl, combine the flour, sugar, baking powder, baking soda and salt. In a small bowl, whisk the butter, sour cream, eggs, orange juice and orange peel. Stir into dry ingredients just until moistened.

Coat a 9-inch springform pan with shortening and sprinkle with flour. Spread half the batter into prepared pan. Add rhubarb to within 1/2 inch of the edges. Sprinkle with cinnamon and allspice. Top with remaining batter.

For Streusel: Combine the flour, sugar and cinnamon in a small bowl; cut in butter until crumbly. Sprinkle over batter. Bake at 350º degrees for 35 to 45 minutes or until a toothpick inserted near the center comes out clean. Cool for 10 minutes.

For glaze: In a small bowl combine confectioners' sugar and orange juice. Drizzle over warm cake. Cool for 1 hour.
Nutrition Facts
Rhubarb Orange Coffee Cake
Amount Per Serving (1 g)
Calories 462
Calories from Fat 153
% Daily Value*
Fat 17g26%
Cholesterol 83mg28%
Sodium 282mg12%
Potassium 369mg11%
Carbohydrates 71g24%
Protein 7g14%
Vitamin A 635IU13%
Vitamin C 10.1mg12%
Calcium 128mg13%
Iron 2.4mg13%
* Percent Daily Values are based on a 2000 calorie diet.
Chocolate Cake with Chocolate Walnut Fudge Frosting is a recipe that my grandma made often. Now I too make this delicious cake whenever possible. The cake is similar to Texas sheet cake but the frosting is what sets this cake apart! So, So Good!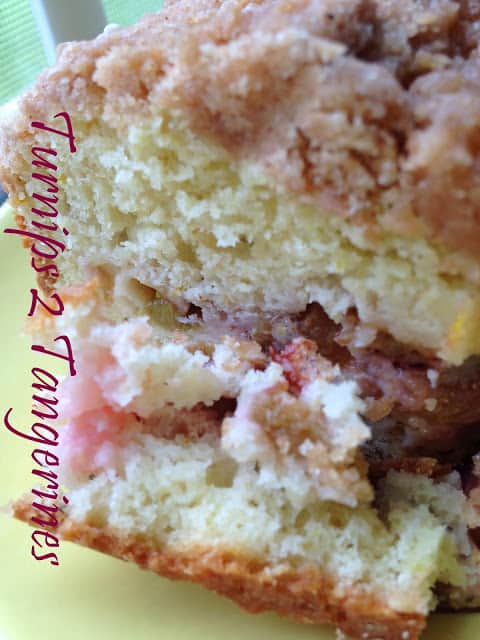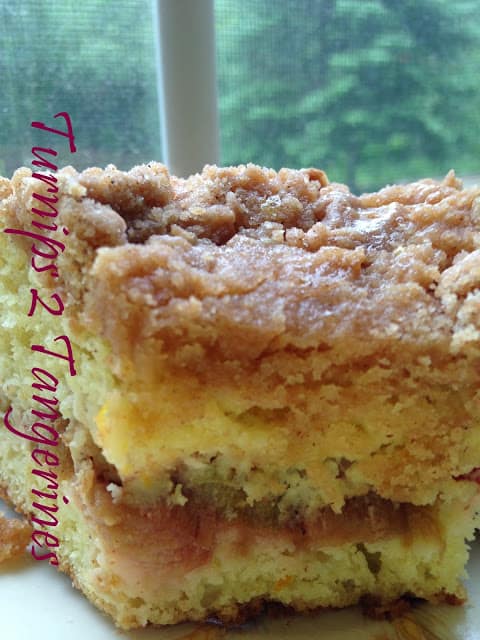 *Recipe Note:
If using frozen rhubarb, measure rhubarb while still frozen, then thaw completely. Drain in a colander but do not press liquid out. The rhubarb stalks I used for this recipe were very small, so I used 2 cups. If your stalks of rhubarb are large, you will probably want to use 1 cup. Sunkist,  oranges add just the right amount of fresh orange flavor.