We may earn money or products from the companies mentioned in this post.
Peasant Style Pugliese Bread
This peasant style bread is made with with a very slack (wet) dough. The dough produces a pleasantly light, open texture bread with holes and has a complex flavor. A long fermentation enhances the breads flavor. Pugliese is a very tasty and delicious bread.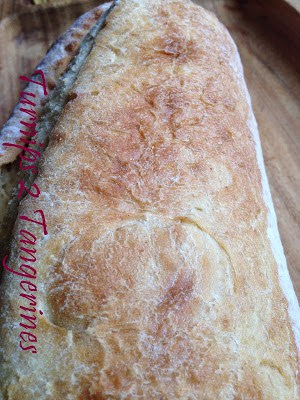 What is a biga
A biga is a type of pre-fermentation used in Italian baking. Many popular Italian breads, including Ciabatta, are made using a biga. Using a biga adds complexity to the bread's flavor and is often used in breads that need a light, open texture with holes.
Apart from adding flavor and texture, a biga helps preserve bread by making it less perishable.
Pugliese Bread
Ingredients
1/2 cup (4 oz)




water

1 1/4 cups (5 1/8 oz)




unbleached all purpose flour

1/8 teaspoon




instant yeast

1 1/2 cups (12 oz)




water

4 cups (17 oz)




unbleached all purpose flour

2 teaspoons




salt

1 teaspoon




instant yeast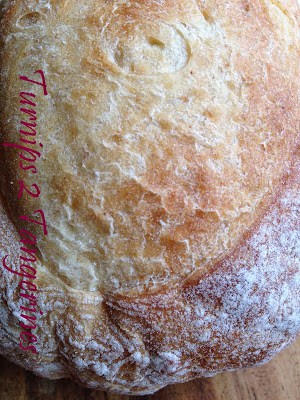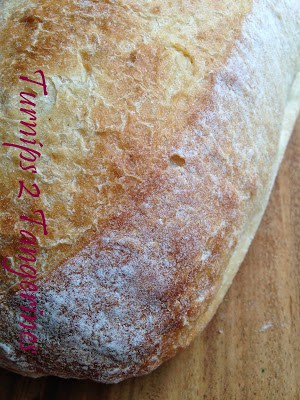 Biga
1/2 cup (4 oz) water
1 1/4 cups (5 1/8 oz) (King Arthur) Unbleached All Purpose Flour
1/8 teaspoon instant yeast
In a small mixing bowl combine the water, flour and yeast to form a soft dough.
Don't knead it, just make sure all of the ingredients are well incorporate.
Set this mixture aside in a warm place, covered, for 12 to 16 hours.
Dough
all of the biga
1 1/2 cups (12 oz) water
4 cups (17 oz) (King Arthur) Unbleached All Purpose Flour
2 teaspoon salt
1 teaspoon instant yeast
Knead all of the dough ingredients together using a mixer or slap and fold technique until the dough is cohesive and elastic, (though not necessarily smooth) about 10 minutes. Cover the dough and let it rise in a warm place for 2 to 3 hours, gently stirring it down each hour. (The longer you let the dough rise at this point the better the flavor of the finished loaf will be)
Lightly grease a half-sheet pan or other flat pan. Scoop the very wet dough in two separate pieces onto the pan lengthwise, shaping each piece into a rough oval as best you can. Cover the dough with heavily greased plastic wrap, and allow it to rise for almost 90 minutes. It will spread quite a bit, but don't worry, it's supposed to.
Spray the loaves heavily with warm water and bake loaves in a preheated 450º F oven for 25 to 30 minutes or until they're a deep golden brown. Turn off the oven, prop the door open, transfer the loaves from the pan to the oven rack and allow them to cool in the turned off oven.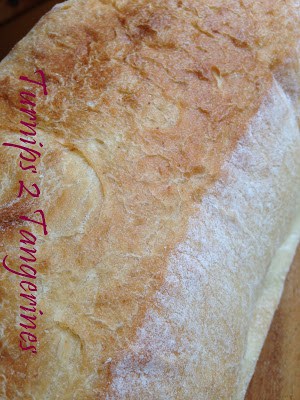 Recipe adapted from: King Arthur
Kitchen Tip: Also called Peking Sauce, hoisin sauce is a thick, reddish-brown sauce that is both sweet and spicy and widely used in Chinese cooking. It is a mixture of soybeans, garlic, chili peppers and various spices. Hoisin sauce will keep indefinitely if refrigerated.