We may earn money or products from the companies mentioned in this post.
White Chocolate Dipped Peanut Butter Easter Eggs
If you like Peanut Butter Balls or Peanut Butter Cups, you'll love these! Make a few peanut butter eggs and put them in your Easter Basket this year. Nothing better than homemade chocolate Easter eggs.
Peanut Butter Balls
Peanut butter Easter eggs and Christmas peanut butter balls is actually the same recipe. Instead of being formed or rolled into balls the mixture is formed into egg shapes and chilled. The chilled "eggs" are placed on a wire rack set over waxed paper. White chocolate is melted with a small amount of shortening and spooned over the "eggs." Top the eggs with your favorite sprinkles.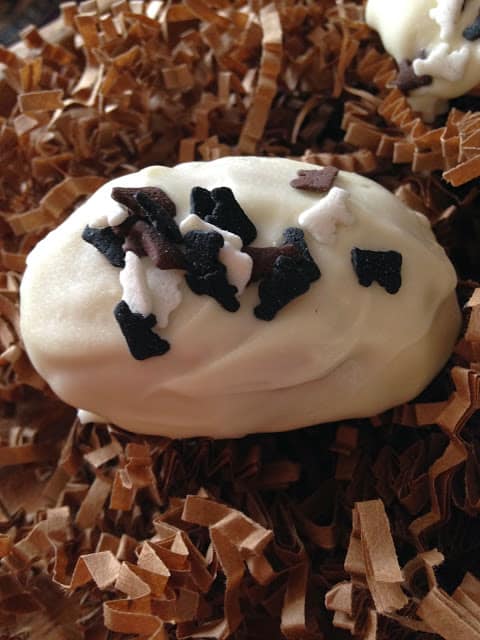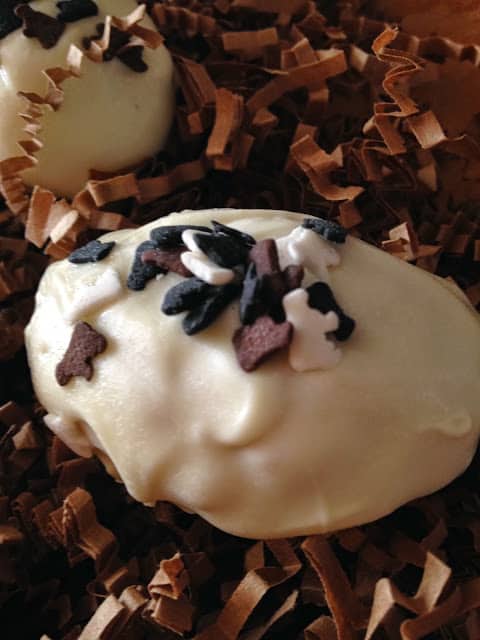 Topped with Cows
My grandson, who helped me make our peanut butter eggs this year, insisted that we top our white chocolate peanut butter eggs with cow shaped sprinkles. Cows in brown, white and black. Since it's nearly impossible to find sprinkles in the area where I live (for some unknown reason) I either order mine on Amazon or when I visit my kids in the "city" I head to the bulk food store and stock-up. I must admit, I have a rather large collection of sprinkles! The bulk food store is located in Greenville WI. Bulk Priced Food Shoppe
Peanut Butter Eggs Dipped in White Chocolate
Ingredients
1/2 cup




butter, softened

2 1/3 cups




confectioners' sugar

1 cup




graham cracker crumbs

1 cup




creamy or chunky peanut butter

1/2 teaspoon




vanilla extract

1 1/2 cups




white chocolate chips

1 tablespoon




shortening

sprinkles of




your choice
Cooking Directions
In a large bowl, cream butter. Gradually add the confectioners' sugar, graham cracker crumbs, peanut butter and vanilla. Shape into 16 to 20 eggs. Place on waxed paper or foil lined baking sheet. Refrigerate for 30 minutes or up to 2 hours.
In a microwave, melt the white chocolate chips and shortening; stir until smooth.
Dip the eggs in the melted chocolate. Place on wire rack, allow excess chocolate to drip off. Decorate with sprinkles. Return the eggs to waxed or foil lined baking sheet and chill until set.
Store in an airtight container in the refrigerator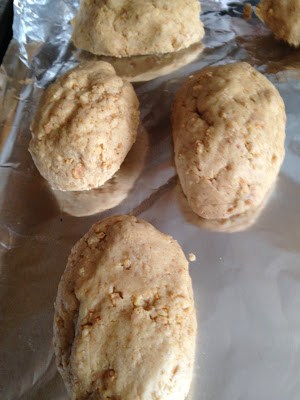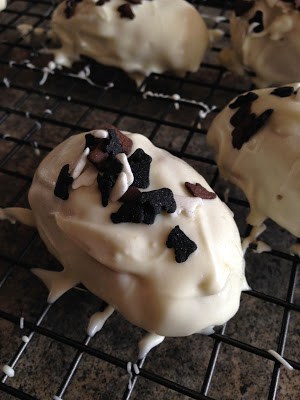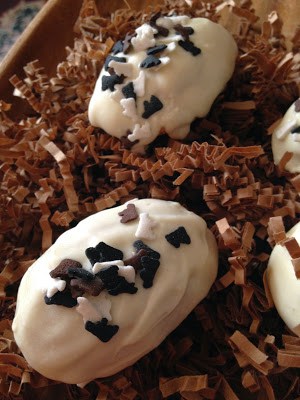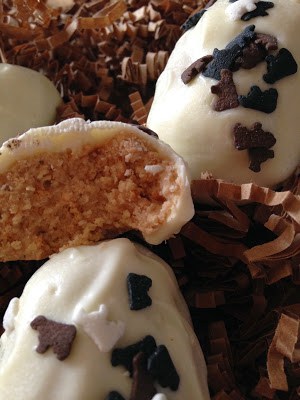 Kitchen Tip: To help prevent cracks in cheesecake, 
Do not overbeat the mixture once the eggs are added.