We may earn money or products from the companies mentioned in this post.
Popcorn and Peanut Snack Mix
This honeyed snack mix has the same taste reminiscent of old-fashioned popcorn balls. This popcorn and peanut mix is much easier to make, so make a big bowl of this snack mix to munch on while your cheering on your favorite team.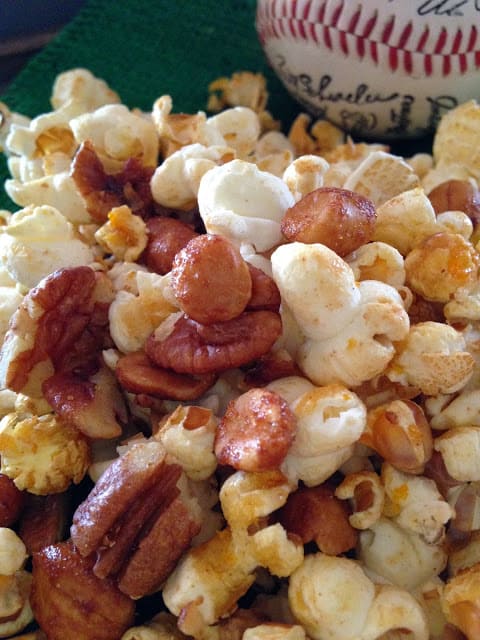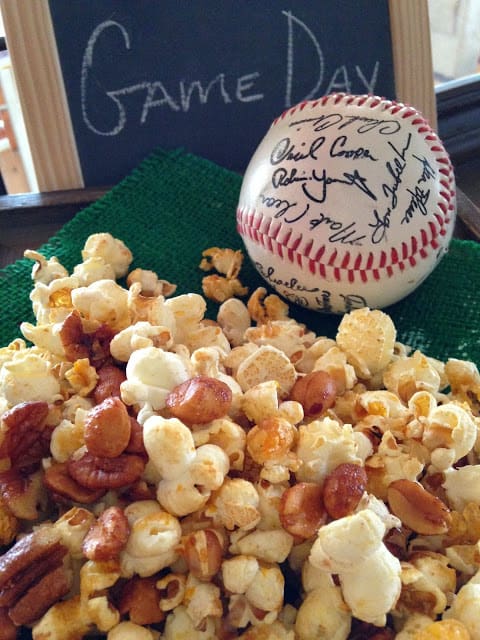 Popcorn 
This recipe calls for 10 cups popped poocorn. You can do one of a few things; pop popcorn using an air popper or a deep pan with a cover, make microwave popcorn, or purchase a large bag of popcorn. For this recipe, we did the latter. We purchased a huge bag of popcorn from Valley Popcorn
Honey Roasted Peanuts
The honey roasted peanuts, along with the honey and orange juice adds fantastic flavor to this popcorn/peanut snack mix. The combination of all flavors come together wonderfully and will leave you wanting more and more!
Popcorn and Peanut Snack Mix
Ingredients
10 cups




air-popped popcorn

1 cup




honey roasted peanuts

1/2 cup




whole pecans, coarsely chopped

1/3 cup




honey

2 tablespoons




orange juice

2 tablespoons




butter

1 teaspoon




orange zest

1/4 teaspoon




ground cinnamon
Cooking Directions
Preheat oven to 325º
Place popcorn, honey roasted peanuts, and pecans in a large roasting pan.
In a medium microwave safe bowl, stir together the honey, orange juice, butter, orange zest and cinnamon. Heat on high for 1 to 2 minutes or until hot and bubbly. Drizzle the honey mixture over popcorn and nuts. Bake for 45 minutes, stirring every 15 minutes. Spread popcorn mixture on a large sheet of foil. Cool completely.
To store, place in an airtight container. Makes 7 cups
Colorful Mini Velvet Cakes are the absolute perfect Easter Sunday cakes.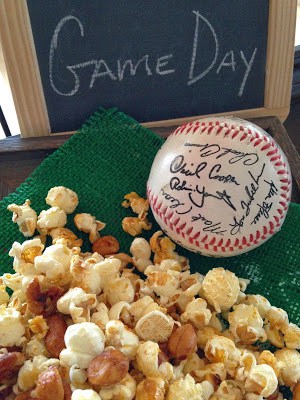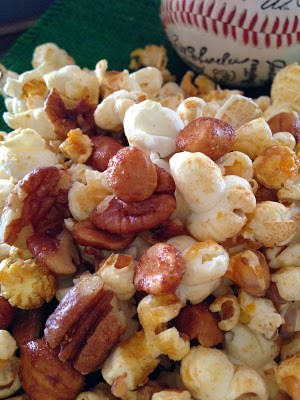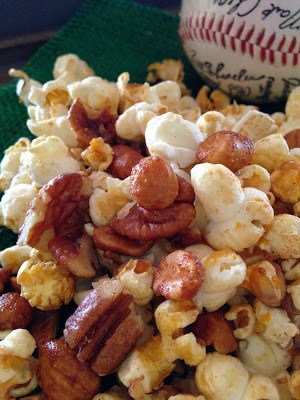 Did You Know? Angel hair pasta is one of the thinnest spaghetti noodles. Legend has it that Parmesan cheese clings to this pasta like gold clings to angels hair.popcorn