We may earn money or products from the companies mentioned in this post.
Roasted Fingerling Potatoes
Over the past few weeks, I have been seeing fingerling potatoes again in grocery stores. I love these little potatoes. Fingerling potatoes have a creamy almost sweet flavor, that goes well with meat, poultry and fish. They're a nice alternative to white, gold or red potatoes. They also cook up fast,
which makes them great for a quick, hurry up supper side dish or potato salad. Plus, they're delicious.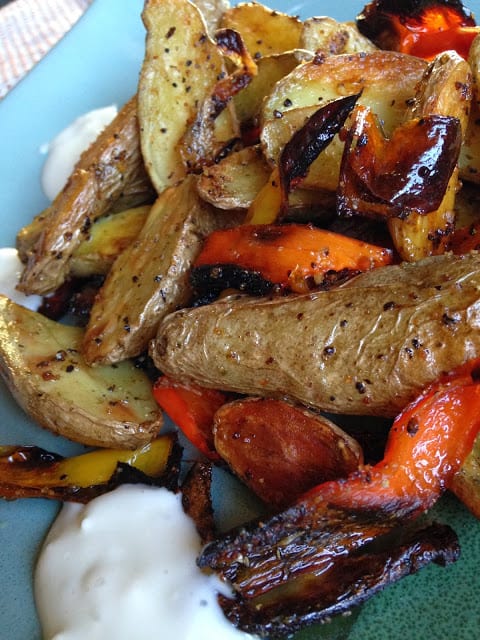 Serve With
My favorite way to prepare fingerling potatoes is to roast them. Roasting brings out their mild and earthy flavor. Serve fingerlings as a side dish
with creamy blue cheese dressing. Roasted fingerling potatoes are great used as a leftover add-in to an omelette, frittata, fried or as potato salad. So make extra!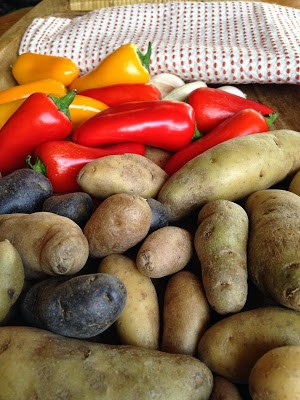 What is a Fingerling?
A fingerling potato is a small, stubby, finger shaped type of potato, hence the name, fingerling potatoes.
Fingerlings are varieties that naturally grow small and narrow. They are fully mature when harvested and are not to be confused with new potatoes. Popular fingerling potatoes include; the yellow skinned Russian Banana, the orange skinned French and the purple skinned Purple Peruvian.
Fingerlings can be baked, broiled, boiled, fried, roasted, sauteed, grilled or mashed. Fingerlings are used as a side dish or in salads. Anyway you make these little beauties, they are delicious.
Roasted Fingerling Potatoes
Ingredients
1 pound




fingerling potatoes

1 small




onion, sliced

2 to 3 cloves




garlic

4 to 6




sweet mini peppers, sliced in half, seeds removed

2 to 4 tablespoons




olive oil

2 tablespoons




onion and herb seasoning blend

creamy blue cheese or




salad dressing of your choice
Cooking Directions
Preheat oven to 400º Wash and dry fingerling potatoes. Slice potatoes in half, lengthwise.
Place halved fingerling potatoes, sliced onion, mini peppers and garlic cloves on a baking sheet lined with foil. Sprinkle with seasoning blend. Drizzle with olive oil.
Place in oven and roast for 20 to 30 minutes or until potatoes are fork tender. Remove from oven. Serve with creamy blue cheese salad dressing or dressing of your choice.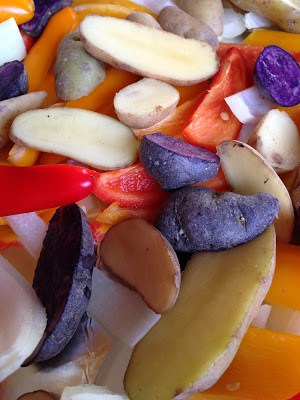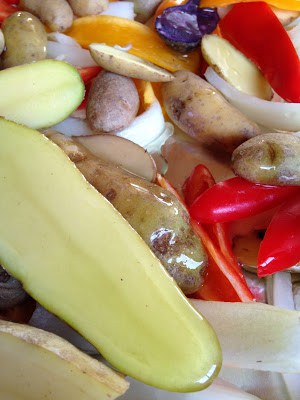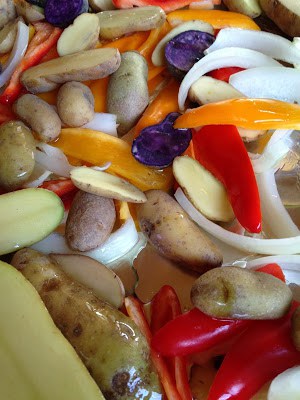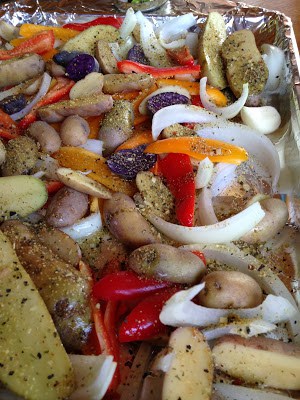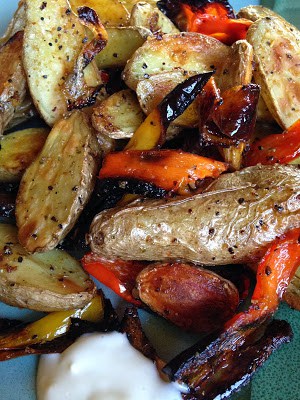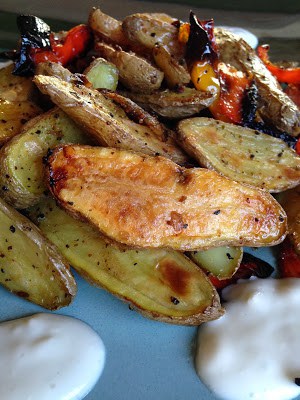 Healthy Note: Insoluble fiber from bran helps to keep things moving through the digestive tract.