We may earn money or products from the companies mentioned in this post.
Green Velvet Mint Cupcakes
with
Cream
Cheese
Frosting
This year for St Patrick's Day, we 
wanted to make something we have never made before. 
Something like these Green Velvet Mint Cupcakes! 
Made in the colors of the Irish Flag, Green, White and Orange.
Each cupcake is filled with a peppermint patty, which is the "mint" part of this recipe. A few extra peppermint patties are chopped and then sprinkled on the tops of the frosted cupcakes.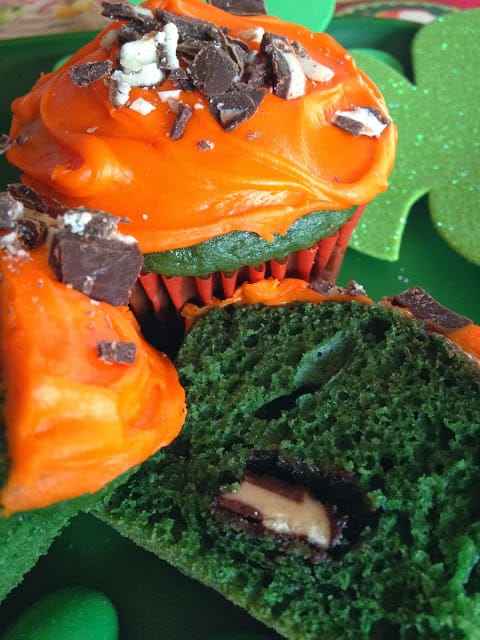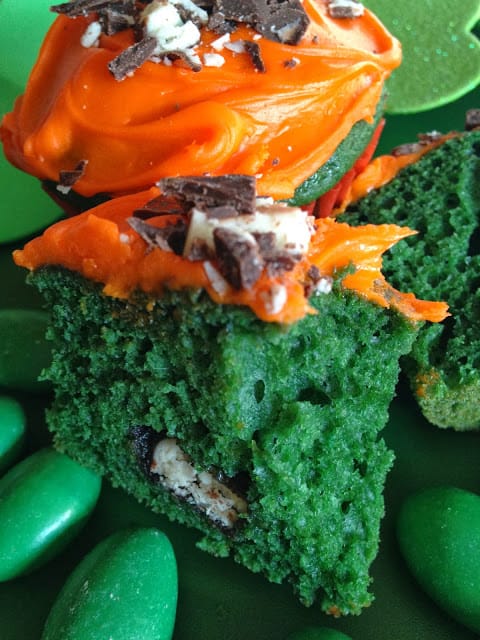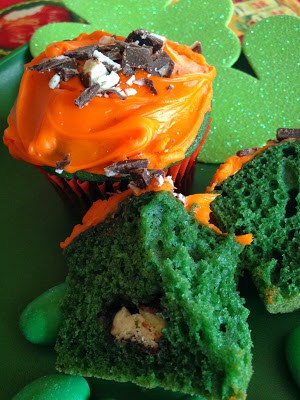 Had to be Green
This recipe had to be "Green" and when I think of St. Patty's Day, I think mint, so it had to be"Minty."
Green Velvet Mint Cupcakes were the perfect answer! Everyone has heard of Red Velvet Cake, but Green Velvet? More than likely you have even made Red Velvet cupcakes or a Red Velvet cake. So why not try Green Velvet!
The colors of the Irish flag are: Green, White and Orange. The green color on the flag represents the native people of Ireland,  (most of whom are Roman Catholic), the orange color represents the British Supporters of William of Orange, who settled in Northern Ireland in the 17th century (most of whom are Protestant). The White in the center of the flag represents peace between these two groups of people.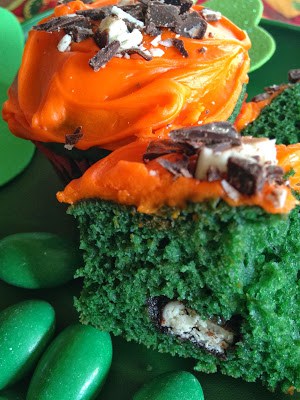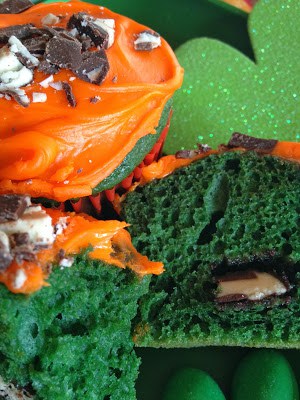 Green Velvet Mint Cupcakes
Ingredients
2 1/2 cups




flour

2 cups




sugar

1 tablespoon




cocoa

1 teaspoon




salt

1 teaspoon




baking soda

2




eggs

1 cup




oil

1 cup




buttermilk

1 tablespoon




vinegar

1/2 teaspoon




mint extract or vanilla extract

1 ounce




green food coloring

10




peppermint patty candy, frozen
Cooking Directions
Preheat oven to 350º Line 24 muffin cups with paper liners.
Lightly stir eggs in a medium bowl with a wire whisk. Add oil, buttermilk, vinegar, mint or vanilla extract. Stir together with wire whisk until blended. Add green food coloring and stir together. Set aside.
Remove peppermint patties from freezer. Unwrap patties and set aside.
Place all dry ingredients in a large bowl. Stir together with wire whisk. Pour you wet ingredients into your dry ingredients. Mix with an electric mixer on medium high for about 1 minute or until well combined.
Cut 6 peppermint patties in fourths. Fill each cupcake liner 1/4 full with green velvet batter. Put 1/4 piece of peppermint candy on top of batter. Divide remaining green velvet batter among the 24 cupcake liners, filling 2/3 full.
Bake for 15 to 20 minutes or until toothpick inserted in middle comes out clean.
Remove cupcakes from oven and cool on wire rack.
When cupcakes are cool, frost with cream cheese frosting
Cream Cheese Frosting
Ingredients
1 (8 oz) package




cream cheese, room temperature

1/4 cup




butter, room temperature

1 teaspoon




vanilla extract

1 pound (4 cups)




powdered sugar

1 to 2 tablespoons milk, or




as needed

few drops of




orange food coloring, optional
Cooking Directions
Cream together cream cheese, butter and vanilla extract in a medium bowl until smooth.
Gradually add the powdered sugar and continue to beat.
Add milk if needed and continue to beat until smooth. Add a few drops of orange food coloring, if desired, and whip until you have reached desired color and consistency.
Frost cooled cupcakes. Chop remaining peppermint patties and sprinkle on top of cupcakes.
Irish Soda Bread Scones is another delicious recipe you can make for St. Patrick's Day.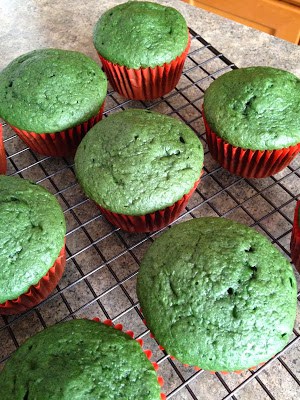 Healthy Note: Fat-free egg product can replace eggs at a savings of 5 grams of  fat each. Use 1/4 cup egg product for each large egg~