We may earn money or products from the companies mentioned in this post.
Sourdough Blintzes
A Week of Sourdough Recipes


Sourdough Blintzes is another recipe adapted from the recipe booklet; Simply Sourdough, The Alaskan Way" by Kathy Doogan.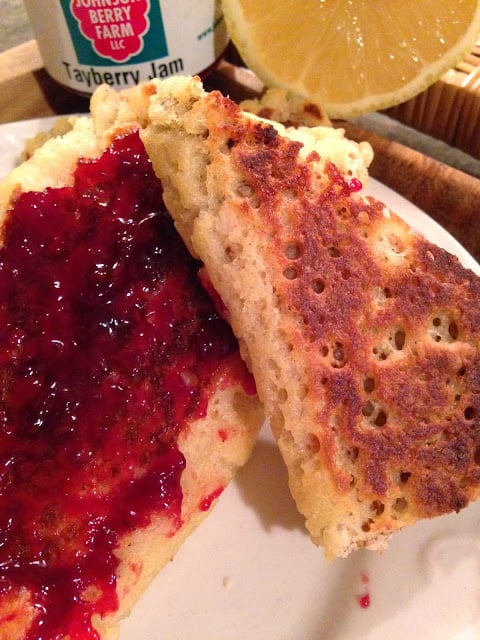 What is a Blintz?
A blintz pronounced [BLIHNTS] is a tender, ultrathin pancake that can be made with any number of flours. The blintzes is rolled to enclose a sweet or savory filling. The fillings include cottage or ricotta cheese, fruit or meat mixtures. The blintzes are then sautéed until golden brown and served with sour cream.
Ingredients
2 cups




sourdough starter

2




eggs

1/4 cup




vegetable oil

2 tablespoons




sugar

1/2 teaspoon




salt

1/2 teaspoon




baking soda

Filling:

1 cup




ricotta cheese

1




egg yolk

1 tablespoon




sugar

1 tablespoon




melted butter

1/4 teaspoon




ground cinnamon

pinch of




salt

1/2 teaspoon lemon zest
Cooking Directions
To make pancakes:
Mix starter, eggs, and oil in a bowl. Add sugar, salt and soda. Mix well (batter will be thin) Using about 1/4 cup batter for each, make large (7″ to 8″ diameter) pancakes on a lightly greased griddle or skillet, preheated to medium heat. Cook until bubbles appear on top and surface looks dry..Do Not Turn Over! Remove pancakes from griddle and set aside until all are cooked. Combine all filling ingredients in a bowl and mix well. Place about a tablespoon of filling in the center of the baked side of each pancake. Fold all four sides over the filling to make an envelope. Place on a greased preheated griddle, seam side down, cook over medium heat until brown, turning once.
Top with sour cream, jam and/or fruit if desired.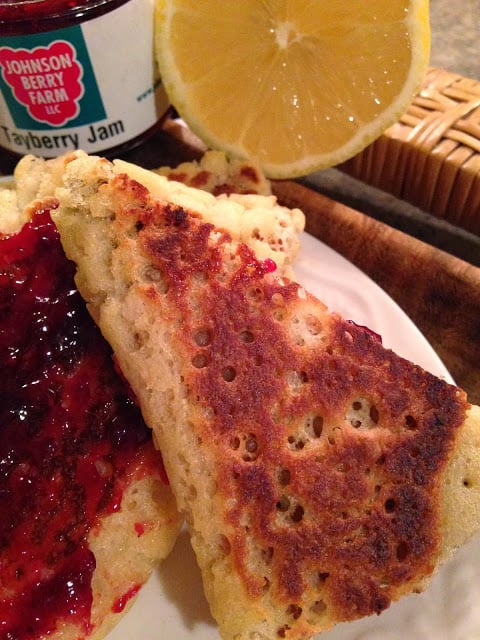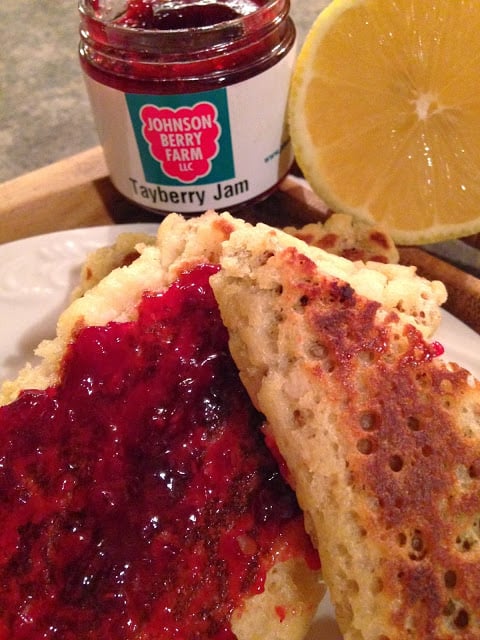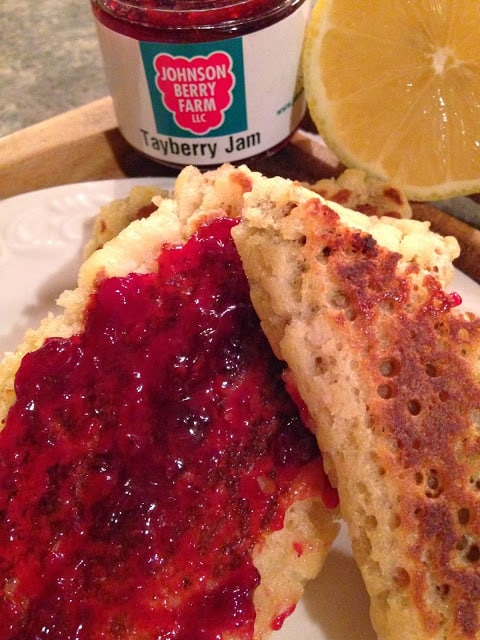 Health Note: The distinctive yellow-orange color of butternut squash from beta-carotene, a form of vitamin A. Winter squash, like butternut, is rich in vitamin A….key for healthy vision.
Here is another sourdough recipe you have got to try, Sourdough Beignets
We used Tayberry Jam from Johnson Berry Farm