We may earn money or products from the companies mentioned in this post.
Roasted Brussels Sprouts
If you don't think you like Brussels Sprouts, think again. Roasted brussels sprouts are super. They become sweet, caramelized little cabbage gems, that are hard to resist.
What are Brussels Sprouts?
Brussels sprouts said to have been cultivated in the 16th-century Belgium. Brussels Sprouts are a member of the cabbage family and indeed resemble tiny cabbage heads. Many rows of sprouts grow on a single long stalk. They range from 1/2 to 1 1/2 inches in diameter; the smaller sprouts are more tender. Brussel sprouts are available from late August through March.
Buy small bright green sprouts with compact heads. Store unwashed sprouts in an airtight plastic bag in the refrigerator up to 3 days; longer than that and sprouts will develop a strong flavor. Brussels sprouts, a cruciferous vegetable, high in vitamins A and C, and are a fair source of iron.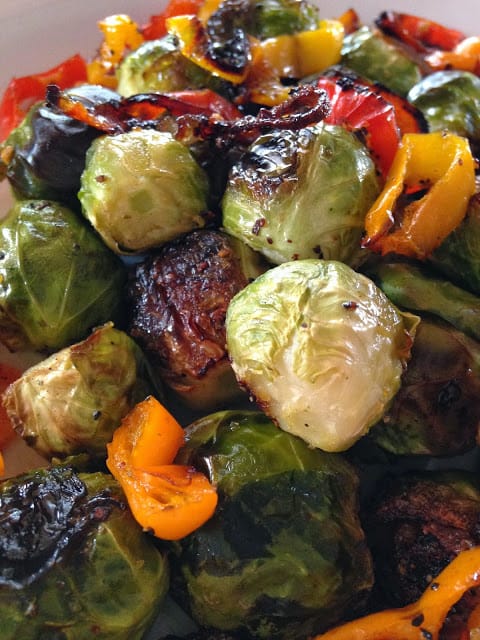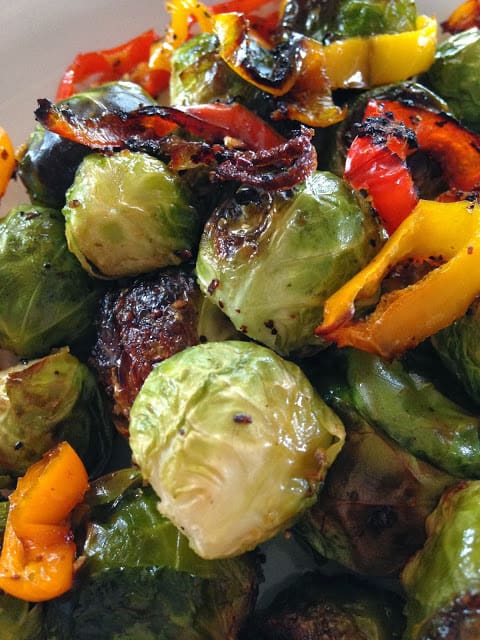 Eating Healthy
We are trying to eat healthier and that means adding more vegetables to our diet. I really like Brussels sprouts but I have never roasted them before. Roasting is a great way to bring out flavor and natural sweetness in many vegetables. Brussels sprouts are no exception. Try roasting Brussels sprouts with shallots and mini sweet peppers,
sprinkle on Mrs. Dash Garlic and Herb seasoning blend, and you'll have the best side dish ever. You can sprinkle roasted Brussels sprouts with
some crispy bacon and Parmesan cheese before serving. So good!!
Ingredients
1 pound




Brussels sprouts

1




shallot, sliced

4 sweet




mini peppers, sliced

2 tablespoons




olive oil

2 teaspoons




garlic and herb seasoning blend

2 slices




crispy bacon, crumbled, optional

2 tablespoons




Parmesan cheese, optional
Cooking Directions
Heat oven to 400º Line a large rimmed baking sheet with foil or parchment paper.
Cut the stem end off the Brussels sprouts and remove any loose outer leaves.
Place Brussels sprouts on baking sheet; add sliced shallots and peppers.
Drizzle with olive oil and sprinkle with seasoning blend, toss to coat.
Roast 35 to 45 minutes or until veggies are crisp on the outside and tender on the inside.
Shake the pan from time to time to brown the sprouts evenly.
Sprinkle with bacon and cheese, optional
Roasted Baby Carrots  and Dijon Balsamic Brussels Sprouts are two fantastic recipes you have got to try!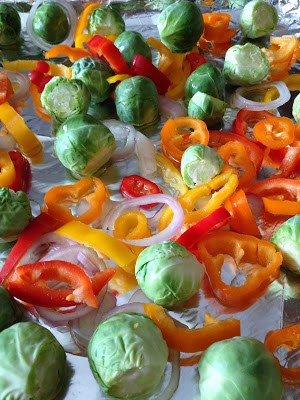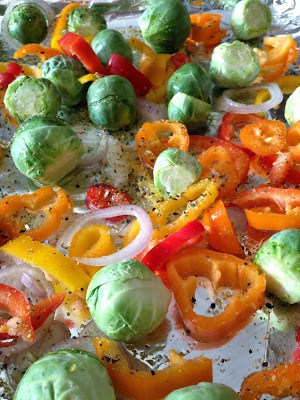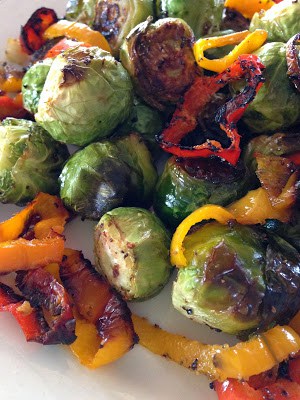 Health Note: Eating at least 3 servings of whole grains daily may help reduce blood cholesterol. Look for the word "whole" to be sure you get the whole grain.