We may earn money or products from the companies mentioned in this post.
Harry and David Relish Dip
Harry and David Relish Dip is delicious, fast and very inexpensive. During the holidays, stock up on Harry and David classic pepper and onion relish. You will then be able to whip up this dip anytime. Trust me, after one bite of this dip you'll want more and more. It has to be one of the most addicting and popular dips I make. (And I make a lot of dip!)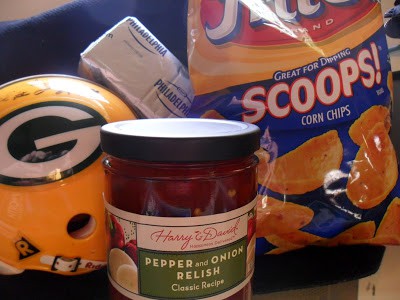 Very Reasonable
As I stated above, this recipe is very inexpensive to make. You will need one block of cream cheese. In my area, cream cheese can go for anywhere between .99 and $2.00. One 8 oz jar of Harry and David classic pepper and onion relish, online for $6.99. Note: you will only use 1/2 of the jar, per 8 oz block of cream cheese, so one jar yields plenty of dip. One package of corn chips. We like Fritos Scoops. Prices vary on the chips.
During the Holidays
Many times, especially during the holidays, Harry and David offers free shipping on all online orders. They also have many promotional sales and offers throughout the year. When they are having a sale or are offering free shipping, that's the best time to stock up and save. That way you'll be enjoying the best corn chip dip ever, whenever you get the urge.
Side Note:
The first time I sampled this super dip I was at a Harry and David Store located at the mall in Oshkosh WI. The store has since closed but you can buy all of Harry and David products online.
Harry and David Classic Relish Dip
Ingredients
8 ounces




Harry and David Pepper and Onion Relish (1/2 jar)

1 (8 oz) package




cream cheese, room temperature
Cooking Directions
Blend softened cream cheese in a mixing bowl until smooth.
Add relish and blend well.
Serve with corn chips.
Stuffed Fresh Strawberries  is the perfect accompaniment to Harry and David Relish Dip.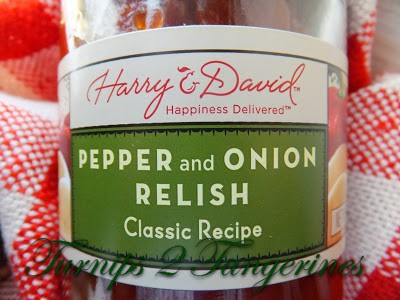 *This is not a sponsored post.* You can order Harry and David Pepper and Onion Relish, Classic Recipe from Harry and David