Sourdough Rye Crackers
This is our first time making crackers. We decided to use a rye sourdough starter because we thought the rye starter would give the crackers a stronger flavor and it did. You can certainly make this recipe using a 'white' flour sourdough starter or even a 'whole wheat' sourdough starter. No matter what kind of starter you use sourdough rye crackers turned out excellent and
were very addictive! I never thought making crackers could be so easy but I was wrong. Home-made crackers are simple to make and should definitely be made more often at home.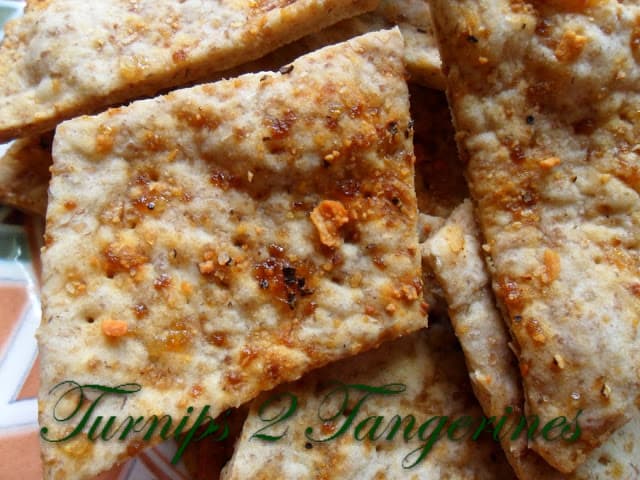 Never thought home-made crackers could taste do good!
Ingredients
1 cup




sourdough starter (rye)

1 cup




flour

1/4 cup




melted butter

1/4 teaspoon each




sea salt and black pepper

1 teaspoon




bacon bits or seasoning of your choice

2 to 4 tablespoons




olive oil
Cooking Directions
Combine flour, starter and butter. Add enough flour to form a stiff ball. Cover and let sit for at least 10 minutes. After 10 minutes, roll dough out very thin. Baste with olive oil. Sprinkle with salt, pepper and bacon bits or seasoning of your choice. Cut dough lengthwise then cross wise to create cracker shapes. Transfer to a baking sheet. Prick the top of each cracker with a fork.
Bake at 350º for 10 minutes.
After 10 minutes, begin checking crackers. Depending on how thin you rolled the crackers, will depend on how quickly they cook.
The crackers burn quickly so pay close attention