We may earn money or products from the companies mentioned in this post.
Amish Onion Cake/Bread
This rich, moist savory cake has an onion-poppy seed topping but that's just the beginning. It's a dense cake made with white flour, eggs, butter, milk and sour cream. The perfect accompaniment to any breakfast, lunch or dinner. It's a wonderful change from regular bread served with a meal. You can serve this bread as a side with meat, stews, soup, chili or top slices with cheese. Amish Onion Cake/Bread makes a fantastic grilled cheese sandwich.
Taste of Home
We have wanted to try this cake/bread for a long time. I found this recipe in a Taste of Home Cookbook called: "The Market Fresh Cookbook." One of many in my vast collection of Taste of Home Cookbooks. I bought this cookbook over 6 years ago and thought it was high time to give this recipe a try. I'm so glad I did! This bread is wonderful. Rich, hearty, different and tasty. A nice change of pace from dinner rolls or corn bread often served with Thanksgiving dinner.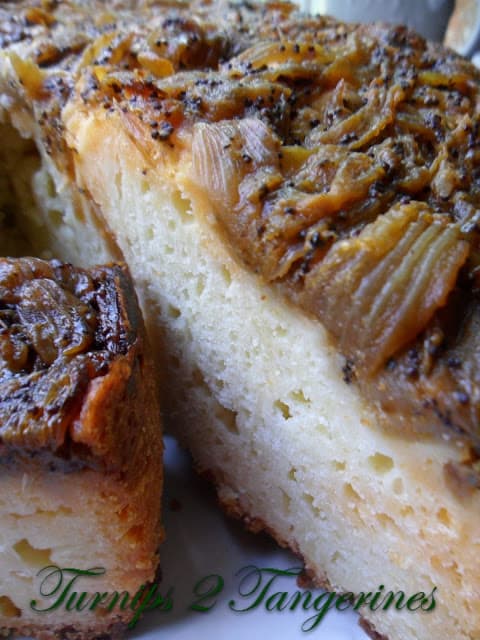 Amish Onion Cake/Bread
Amish Onion Cake/Bread is rich and delicious!
Keyword:
Amish Bread/Cake, Bread, onions, poppy seeds
Ingredients
3 to 4

medium sweet onions, chopped

(Vidalia)

2

cups

cold butter, divided

1

tablespoon

poppy seeds

1 1/2

teaspoon

salt

1 1/2

teaspoon

paprika

1

teaspoon

coarsely ground pepper

4

cups

flour

1/2

cup

cornstarch

1

tablespoon

baking powder

1

tablespoon

sugar

1

tablespoon

brown sugar

5

eggs

3/4

cup

milk

3/4

cup

sour cream
Directions
In a large skillet, cook onions in 1/2 cup butter over low heat for 10 minutes. Stir in the poppy seeds, salt, paprika and pepper; cook until golden brown, stirring occasionally. Remove from heat; set aside.

In a large bowl, combine flour, cornstarch, baking powder and sugars. Cut in 1-1/4 cups butter until mixture resembles coarse crumbs.

Melt the remaining butter. In a bowl, whisk the eggs, milk, sour cream and melted butter.

Make a well in the dry ingredients; stir in egg mixture just until moistened. Spread into a greased 10 inch springform pan. Spoon onion mixture over the dough. Place pan on baking sheet. Bake at 350 º for 35 to 45 minutes or until toothpick inserted near the center comes out clean. Serve warm. Yield: 10-12 servings.
For dessert serve warm slices of Apple Kuchen with a whipped cream cheese topping or  with my favorite, cinnamon ice cream.