We may earn money or products from the companies mentioned in this post.
Clam Fritters with Spicy Cocktail Sauce
Clam Fritters are so delicious. They are wonderful dipped in Spicy Cocktail Sauce. Fritters are small, sweet or savory, deep-fried little cake bites made either by combining chopped food with a thick batter or by dipping pieces of food into a similar batter. Some of the more popular foods used for fritters are apples, corn and crab. Here is  a favorite recipe of ours for Papaya Fritters.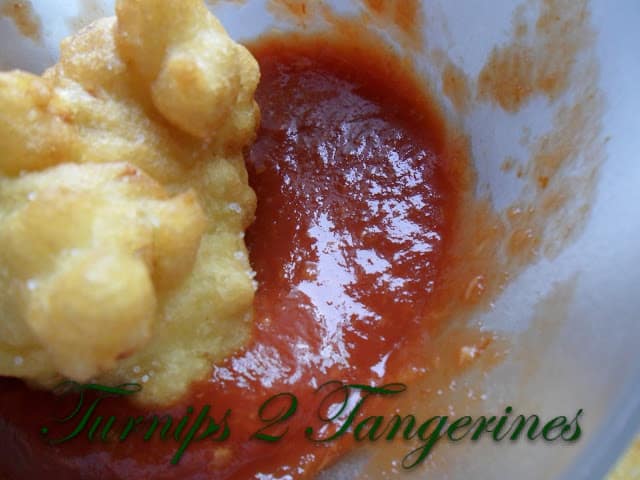 Cocktail Sauce
Cocktail Sauce is a combination of ketchup or chili sauce with prepared horseradish, lemon juice and Tabasco sauce or other hot red pepper seasoning. This spicy sauce is served with seafood and as a condiment for hors d' oeuvres. There is also a delicious sauce called Remoulade Sauce. This sauce is great with seafood and would be super with these clam fritters.
Remoulade Sauce
Remoulade pronounced, [ray-muh-LAHD] This classic French condiment or sauce is usually made by combining aioli or mayonnaise that is usually homemade. Although similar to tarter sauce, it is often more yellow in color or reddish in Louisiana. Sometimes flavored with curry, mustard, capers, chopped gherkins, herbs and anchovies. It's served chilled as an accompaniment to cold meat, fish and seafood.
Canned Clams
I am no authority on clams, by any means. Clams just aren't widely available here in Wisconsin, but we do have canned clams. When purchasing any canned seafood from calms to salmon to tuna, by a good brand. This is especially true for canned clams. You might have to try a few different brands before you find a brand you like. The brand that we thought was the best, with the lest 'clammy' flavor was Bar Harbor canned clams.
Bar Harbor Foods
"Bar Harbor Foods sits on a picturesque wharf on a beautiful sheltered cone in Downeast Maine. The cries of gulls echo across the water; the tide laps against pilings as the tie lines of the fishing boats stretch and creak in the sun and fog. This is where premium specialty seafood is made-fresh off the docks of Maine. Willard M. Look founded the original East Machias Canning Company in 1917, on a wharf at the head of Holmes Bay. Premium foods that reflect naturally delicious New England cuisine and authentic Maine traditions."
"It was Willard Look who first developed the successful process for handling and canning crab meat and lobster. While the business has expanded and changed over the past 85 years, Downeast Maine still inspires all of their products. Bar Harbor likes to keep things simple, from original recipes and fresh natural ingredients. Specialty seafood and other fine foods are made in small batches. Packed and canned mostly by hand, just like people on the coast of Maine have been doing for generations."
Clam Fritters with Spicy Cocktail Sauce
Clam Fritters are great as an appetizer, light lunch or serve with a side salad and french fries for dinner.
Course:
Appetizer, Dinner, Lunch
Keyword:
clams, cocktail sauce, fritters
Ingredients
2/3

cup

flour

1

teaspoon

baking powder

1/4

teaspoon

salt

1/8

teaspoon

pepper

1/4

teaspoon

seafood seasoning

1

egg

3

tablespoons

milk

1

6 1/2 oz can

minced clams

1/4

cup

dry onion soup mix

oil for deep-frying

1/4

cup

water

2

tablespoons

finely chopped yellow onion

1/2

cup

bottled chili sauce

1/2

cup

ketchup

1

tablespoon

prepared horseradish

drained

2

teaspoons

lemon juice

2

teaspoons

Worcestershire sauce

1/2

teaspoon

dry mustard

1/8

teaspoon

ground red pepper

cayenne
Directions
In a small bowl, combine flour, baking powder, salt, pepper and seafood seasoning, set aside. Drain clams, reserving 2 tablespoons clam juice; set clams aside.

Beat egg, milk, and reserved clam juice in a small bowl. Stir into dry ingredients just until moistened. Add the clams and dry onion soup mix.

In an deep cast-iron skillet or deep fat fryer, heat oil to 375º

Drop batter by tablespoonfuls into hot oil. Fry for 2 to 3 minutes, turning occasionally, until golden brown. Drain on paper towels and serve with Spicy Cocktail Sauce.

Make Spicy Cocktail Sauce: In a medium saucepan combine; water and finely chopped yellow onion. Cook covered for 5 minutes or until onion is tender. Drain. Stir in bottled chili sauce, ketchup, drained prepared horseradish, lemon juice, Worcestershire sauce, dry mustard, and ground red pepper. Bring to a boil, lower heat and simmer uncovered 2 minutes. Transfer to a small bowl. Cool. Cover and refrigerate for at least 2 hours. Sauce will keep for a week. Makes about 1 cup.
Nutrition Facts
Clam Fritters with Spicy Cocktail Sauce
Amount Per Serving (1 g)
Calories 185
Calories from Fat 18
% Daily Value*
Fat 2g3%
Cholesterol 42mg14%
Sodium 1144mg50%
Potassium 425mg12%
Carbohydrates 35g12%
Protein 6g12%
Vitamin A 490IU10%
Vitamin C 9.3mg11%
Calcium 84mg8%
Iron 1.8mg10%
* Percent Daily Values are based on a 2000 calorie diet.
Blueberry Pancake Fritter Bites are delicious fritters made with blueberry complete pancake mix.