We may earn money or products from the companies mentioned in this post.
Brie in Puff Pastry
Brie in Puff Pastry is a wonderful, easy and impressive appetizer. This French classic is a true delight. Serve with buttery or stoneground crackers. Another option would be to serve creamy Brie on slices of garlic toast, which is my favorite way to eat this classic appetizer.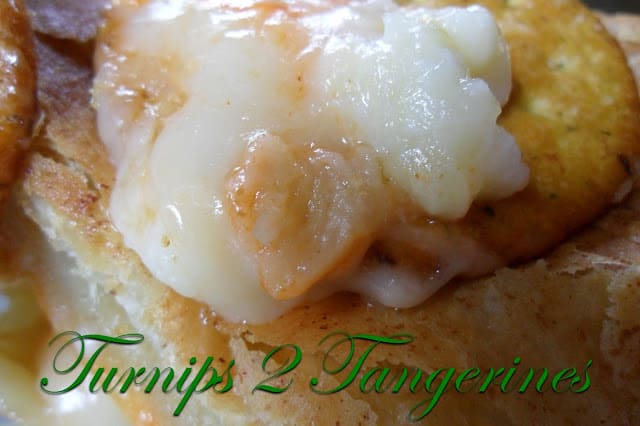 New Twist
Brie in puff pastry has a new twist. First roll out a sheet of puff pastry large enough to totally contain the Brie. Using a fork, prick the entire top surface of the wedge of cheese. Slowly spoon one tablespoon of hot sauce over the surface. Let stand about 5 minutes to allow the sauce to sink in. Slowly spoon remaining sauce over surface and prick surface again. Enclose the cheese in the puff pastry and bake. What you will have is a creamy, spicy and delicious appetizer. Don't forget to try the crunchy puff pastry!
Ingredients
1 sheet




puff pastry

1 wedge




brie cheese

2 tablespoons




hot sauce

1




egg, beaten

vegetable crackers, buttery 

crackers or garlic toast
Cooking Directions
Preheat oven to 400º
Roll pastry sheet into a thin square, large enough to completely wrap cheese. Place cheese in center of dough. Prick top of cheese several times with tines of fork. Slowly pour 1 tablespoon pepper sauce over top of cheese. Let stand briefly to allow sauce to sink in. Add remaining 1 tablespoon hot sauce, pricking cheese several more times with fork. Some sauce will run over side of cheese. Bring edges of dough over top of cheese. Brush edges with beaten egg and seal.
Bake for 15 minutes or follow directions on puff pastry package.
Serve immediately with crackers.
For a quick dessert idea, try this recipe for Cookies n Cream Cereal Treats