We may earn money or products from the companies mentioned in this post.
Island Mango Pineapple Chicken
Robust, Wonderful and Flavorful! Island Mango Pineapple Chicken is sure to bring the taste of the tropics to your dinner table. Island Mango Pineapple Chicken is sweet yet tangy with a wonderful mango and pineapple flavor. It also has a nice spicy kick that we love here on Turnips 2 Tangerines.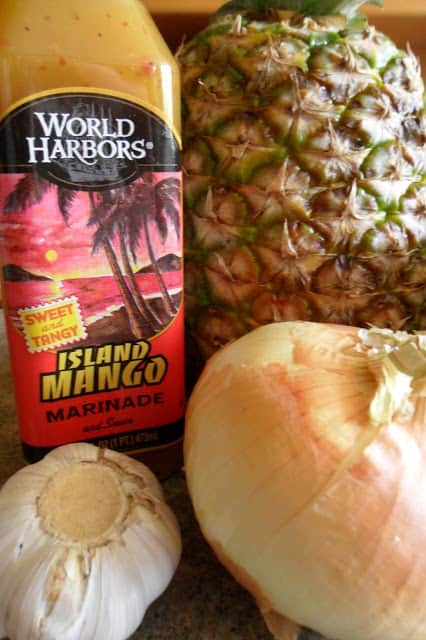 Try Something New
We are always on the look out for new and interesting marinades. We do make our own marinades from time to time, but with all the different types of marinades on the market today, why not try one or two or three. Just like the many brands of barbecue sauce on the market today, there are just as many marinades. And that's a good thing! If you have stood in the condiments aisle lately, you know what I'm talking about. I swear a person could use a new/different marinade or barbecue sauce everyday for a year!
World Harbor
Today we tried a bottle of World Harbor, Island Mango Marinade. It's a wonderful marinade, with an intense mango flavor and with a nice spicy kick. Check out more World Harbor products at: World Harbor, click on "Brands" and choose "World Harbor" Now, on to Island Mango Pineapple Chicken.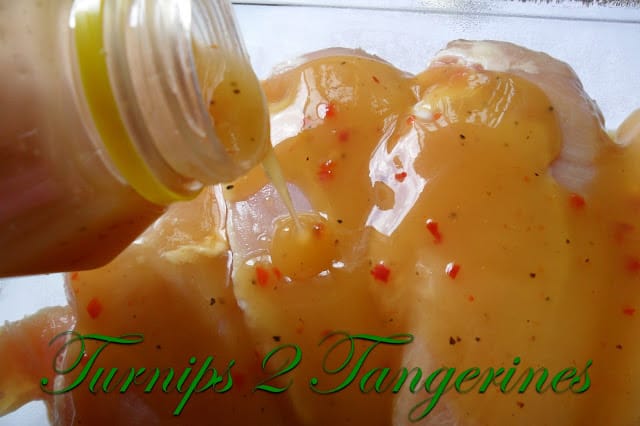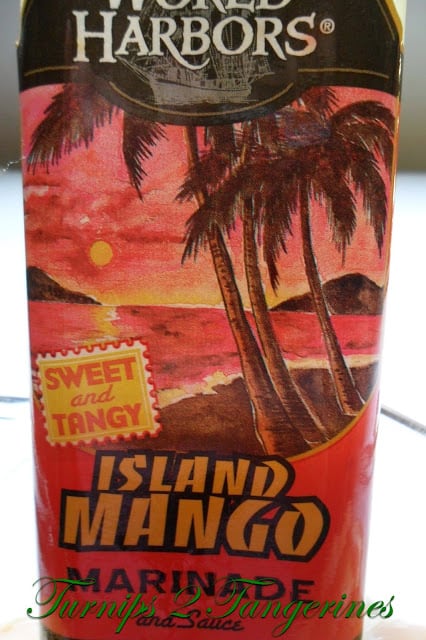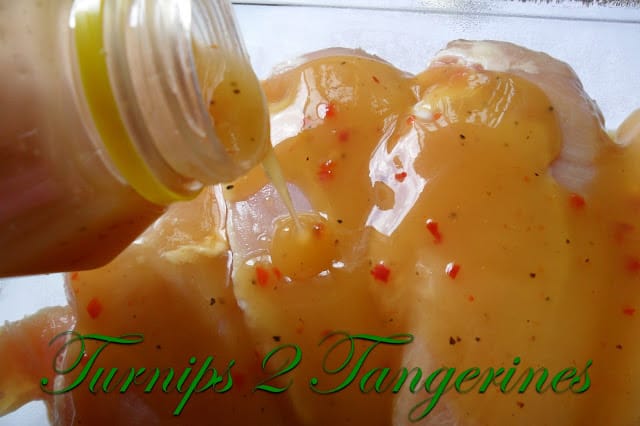 Island Mango Pineapple Chicken
Chicken is marinated in a fantastic marinade by Harbor
Keyword:
Chicken, fruit, mainade
Ingredients
4 to 6

boneless, skinless chicken breasts

1

bottle

World Harbor island mango marinade or marinade of your choice.

4

tablespoons

vegetable oil

1

large

green pepper, chopped

1

medium

onion, chopped

2

cloves

garlic, minced

1

cup

fresh mushrooms, quartered

1/2

cup

chicken broth

1/3

cup

white wine, water or additional chicken broth

2

cups

pineapple chunks, fresh or canned

1

mango, peeled and cubed
Directions
Clean chicken breasts and pat dry with a paper towel. Place chicken breasts in a 2 quart glass baking dish. Pour marinade over chicken breasts, cover with plastic wrap, place in refrigerator; marinade for 1 to 2 hours, or according to bottle directions.

Remove chicken from refrigerator, discard any left over marinade.

Heat oil in large skillet over medium heat. Add chopped green pepper, onion, garlic and mushrooms. Saute' vegetables until tender, 10 minutes. Add chicken breasts, turning to brown on both sides, 30 minutes or until juices are no longer pink. Carefully stir in chicken broth and wine. Add pineapple chunks and cubed mango.

Cover and let simmer for 30 minutes.

Serve with Jasmine Rice