Lemon Lime in the Coconut Cupcakes
Lemon Lime in the Coconut Cupcakes are like Springtime in a Cupcake. One bite of these delicious cupcakes and you'll be singing, "Put the Lime in the Coconut" song. These delightful cupcakes are so refreshing. Perfect to serve in the spring or to serve after your Easter Dinner.
Food Finds
A few simple ingredients are all that are needed to make Lemon Lime in the Coconut Cupcakes. In fact, we found several new to me "Food Finds" that I used for this recipe. If you're new to Turnips 2 Tangerines you might be thinking, "What the heck is a Food Find?" A "Food Find" is any food related product that we have used here on Turnips 2 Tangerines and simply "love."  A product that we feel deserves to be shared with you, our loyal readers:)
 For This Recipe
For this recipe we used three "Food Finds." One package Pillsbury Supreme Key Lime Cake Mix, one container Pillsbury Key Lime Frosting and one can Wilderness Lemon Pie Filling. We have also include the 'recipe' for how to tint coconut. We tinted the coconut yellow using AmeriColor gel food coloring. All of the "Food Finds" we found are super fantastic.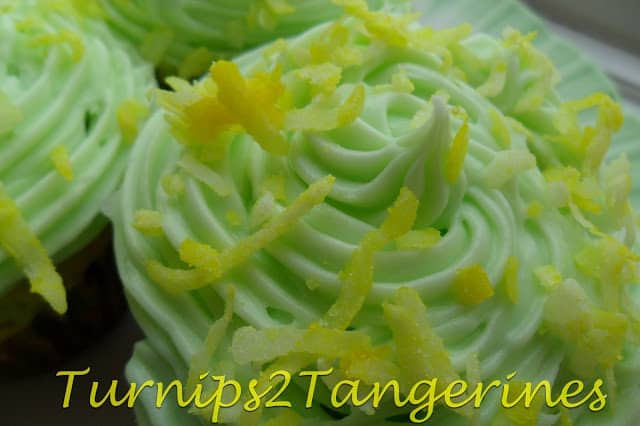 Lemon Lime in the Coconut Cupcakes
Keyword:
boxed cake mix, cake mix, coconut, frosting, pie filling
Ingredients
1

package

Pillsbury Supreme Key Lime Cake Mix

1

cup

water or lemon-lime soda

1/3

cup

vegetable oil

3

eggs

1

15 oz can

Wilderness Lemon Pie Filling

1

16 oz container

Pillsbury Key Lime Frosting

2

cups

sweetened flaked coconut (tinted yellow)

cupcake liners

2

cups

coconut

1 to 2

drops

yellow gel food coloring or color of your choice
Directions
Heat oven to 350.  Line a 24 cup cupcake pan with cupcake liners.

Combine cake mix, water, oil and eggs in a large bowl until moistened. Beat with a mixer on medium speed for 2 minutes. Fill cupcake liners 1/4 full, drop 1 teaspoon lemon pie filling onto cake batter, top with 1 tablespoon cake batter.

Bake for 19 to 23 minutes. Remove cupcakes from pan, cool on wire rack.

Frost with Pillsbury Key Lime Frosting

How to Tint Coconut

Place 2 cups coconut in a small bowl.

Squeeze 1 to 2 drops yellow food coloring on coconut.

Mix well.

Sprinkle cupcakes with colored or tinted coconut