We may earn money or products from the companies mentioned in this post.
Italian Sausage and Peppers with Polenta
Italian sausage and peppers is made in your crock pot, which makes it's a winner in my book. Not only is it a winner in my book but it will warm you up on a cold winters day. We like it to serve Italian Sausage and peppers with polenta. This recipe also includes step-by-every-other step photos. Enjoy this hearty meal after a long day of work, an afternoon of shopping or a day spent at home watching your favorite movies.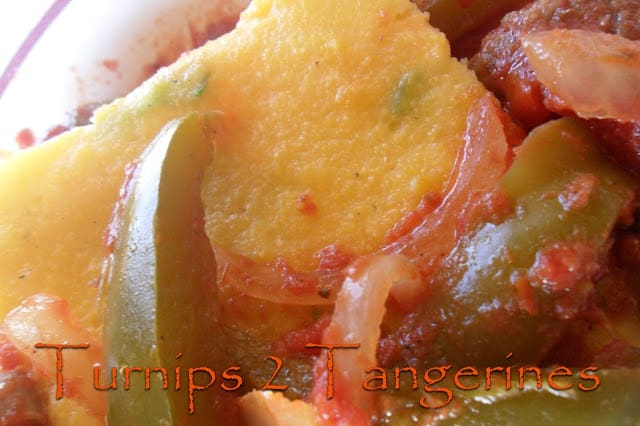 What is Polenta?
Polenta [poh-LEHN-tah] is a staple of northern Italy. Polenta is a mush made from cornmeal. It can be eaten hot with a little butter or cooled until firm, cut into squares and fried. Polenta is sometimes mixed with cheese such as Parmesan or Gorgonzola. It can be served as a first-course or side dish and makes for hearty breakfast fare. In the southern states dry cornmeal is made into bread and biscuits. Cornmeal is used as a breading also.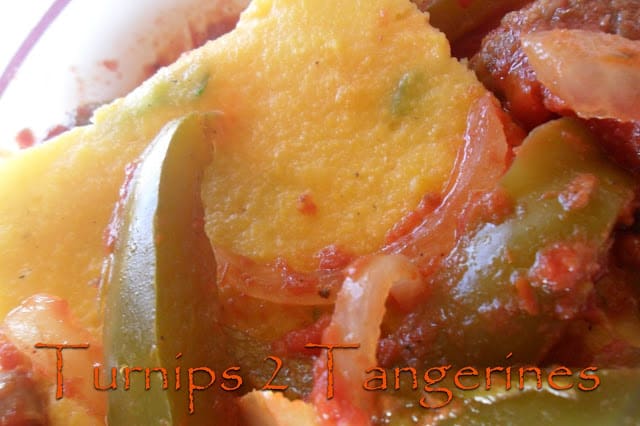 Italian Sausage and Peppers with Polenta
Comfort food at it's best.
Keyword:
polenta, sausages, slow cooker
Ingredients
1

tablespoon

olive oil

1

tablespoon

minced garlic

1

medium

yellow onion

2

pounds

Italian sweet sausage links

4 to 6

sliced

green peppers

1

28 oz can

crushed tomatoes

1

14 oz can

diced tomatoes with green chilies

1

6 oz can

tomato paste

salt and pepper. to taste

1

tablespoon

Italian seasoning

6

cups

water

2

teaspoons

salt

1 3/4

cups

yellow cornmeal

3

tablespoons

butter

3

green onions

chopped
Directions
Turn an empty 4 or 5 quart slow cooker on high heat setting, pour the olive oil into the bottom. Stir the garlic into the oil, cover the slow cooker. Let the garlic heat up while you prepare the other ingredients.

Slice the onion and add to the oil in the slow cooker. Cut each sausage link into thirds; add to the slow cooker. Cut green peppers into thin strips; add to the crock pot. Stir all ingredients well. Add crushed tomatoes, diced tomatoes with green chilies, tomato paste, Italian seasoning, salt and pepper.

Cover and turn crock pot to low setting. Cook 7 to 8 hours.

Make Basic Polenta

Bring 6 cups of water to a boil in a large heavy saucepan, add 2 teaspoon salt. Gradually whisk in the cornmeal. Reduce heat to low and cook until the mixture thickens and the cornmeal is tender, about 15 minutes stirring often.

Turn off the heat and add the butter, stirring until the butter is melted. Stir in chopped green onions. Pour mixture into a buttered 11 x 7 x 1.5 baking dish. Cool. Refrigerate until set. Cut polenta in large squares. You can also cut the polenta with cookie cutters for a more festive look.
Grilled Polenta and Eggs is another great recipe featuring Polenta.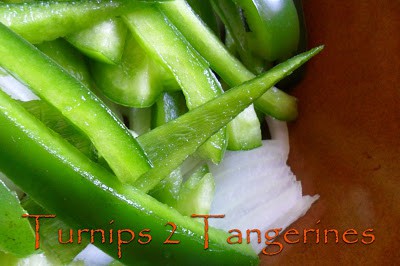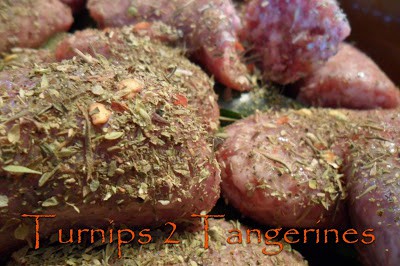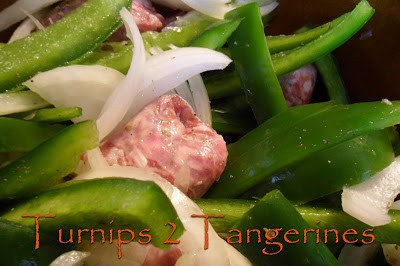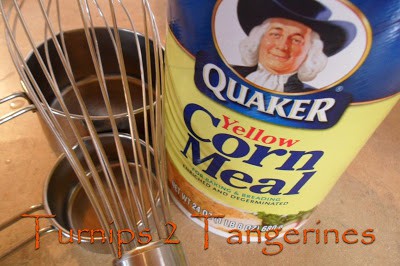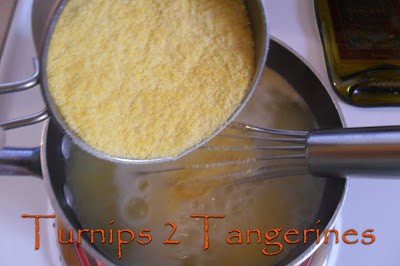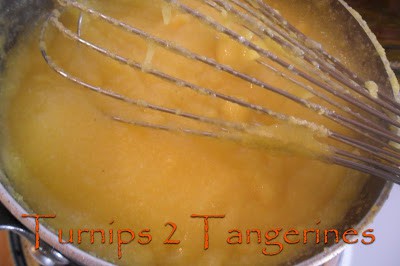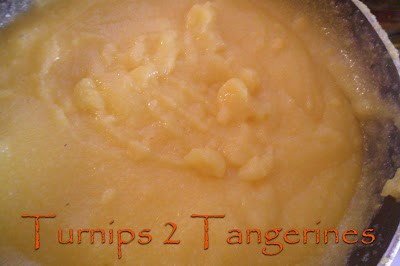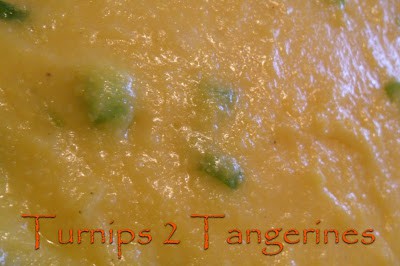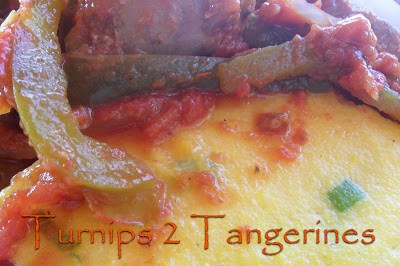 For this recipe we used yellow cornmeal by Quaker