We may earn money or products from the companies mentioned in this post.
Blood Orange Scones with Orange Glaze
Blood Orange Scones with Orange Glaze are a true delight. They are called blood oranges due to their deep red, color. If you have never experienced a blood orange, pick one up. You'll never forget the first time you cut a blood orange open and see how red the flesh of this orange truly is. Blood oranges have a sweet/tart flavor and are great used in a sauce used to top vegetables. Particularly cooked asparagus and green beans.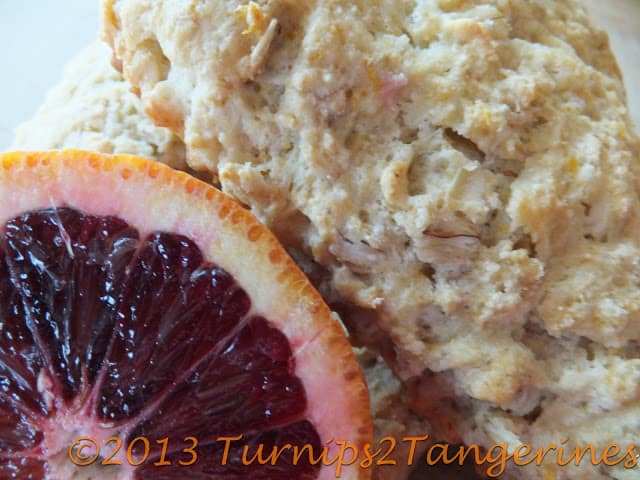 Sauces made with Blood Oranges
Blood Oranges are grown primarily around the Mediterranean and now in California. This sweet/tart orange has a bright red or red-streaked white flesh. Most blood oranges are best eaten fresh, but the more acidic varieties, like the Maltese, work well in cooked sauces. The Hollandaise-based Maltaise Sauce, is a Hollandaise blended with orange juice and grated orange rind. The perfect accompaniment to cooked vegetables.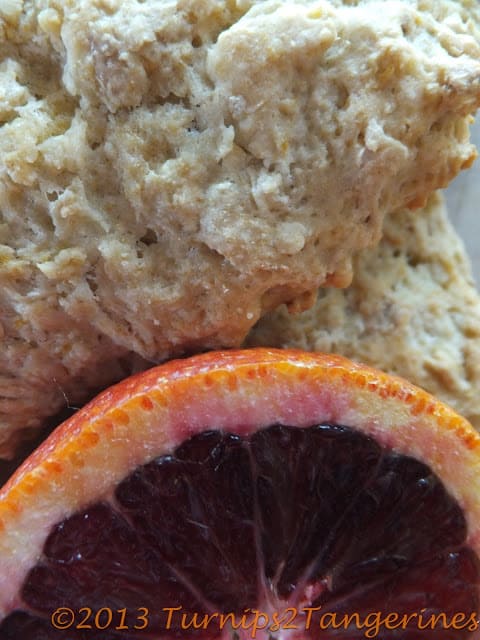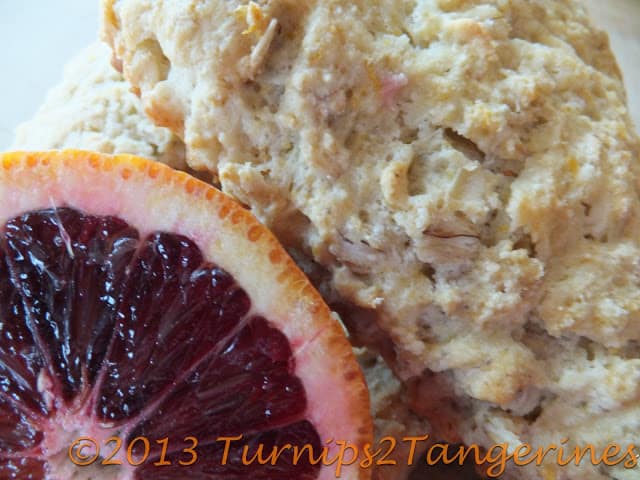 Blood Orange Scones with Orange Glaze
A delicious citrus scone made with the brilliant red fleshed blood orange.
Keyword:
orange, Orange Glaze, scone, scones
Ingredients
2

cups

flour

1

cup

rolled oats

1/3

cup

sugar

1

tablespoon 

baking powder

1/2

teaspoon

salt

1/2

teaspoon

baking soda

1

stick butter, cold and cubed

1

tablespoon 

blood orange zest

1

egg slightly beaten

4

tablespoons 

blood orange juice

4

tablespoons

orange or honey flavored yogurt

2

tablespoons 

milk

1

cup

confectioners' sugar

2 to 4

tablespoons

blood orange juice
Directions
Preheat oven to 400º Line baking sheet with parchment paper.

In large bowl, combine flour, oatmeal, sugar, baking powder, salt and baking soda.

Cut in cubed butter with pastry blender until mixture resembles coarse crumbs.

With fork, stir in blood orange zest.

In small bowl combine egg, blood orange juice, yogurt and milk.

Add milk mixture to flour mixture, stir together.

Turn dough out onto well floured surface, knead 8 to 10 times.

Pat dough into 8 inch circle. Cut dough into 8 wedges.

Place on parchment lined baking sheet. Bake for 12 to 15 minutes or until lightly browned.

Remove from baking sheet and cool on wire rack.

Make Blood Orange Glaze

Mix together confectioners sugar and juice until reach desired drizzle consistency.

Drizzle over scones