We may earn money or products from the companies mentioned in this post.
Chocolate Chip Banana Brownies
It's super cold outside today! The only thing that's going to warm me up, is a pan of chocolate chip brownies. What could make a pan of already delicious brownies even better? Adding mashed bananas to the brownie batter, that's what! Topping the brownies with a chocolate, peanut butter glaze, well that's just plain genius. Chocolate chip banana brownies with a chocolate peanut butter glaze are super, duper delicious!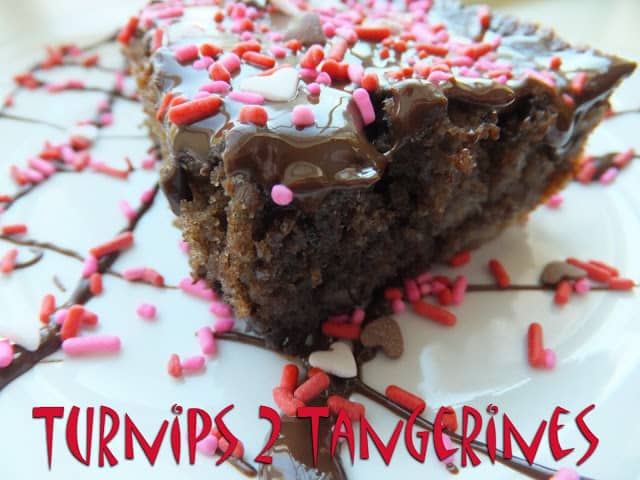 Chocolate Peanut Butter Glaze
This chocolate peanut butter glaze is amazing. It's delicious on everything from brownies to mounds bars. Peanut butter and chocolate chips are melted together, then spread over the brownies. Valentine sprinkles are scattered over the glaze but this step is optional. The sprinkles are optional but who doesn't like sprinkles? They certainly make the brownies look more festive with the Valentine sprinkles on top, don't you think so?
Valentine Inspired Recipes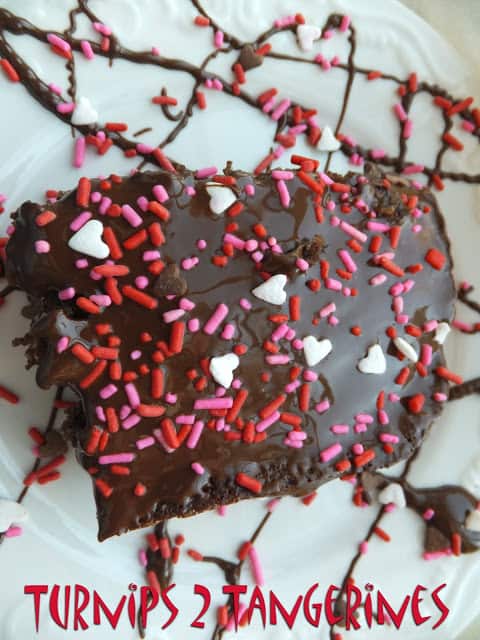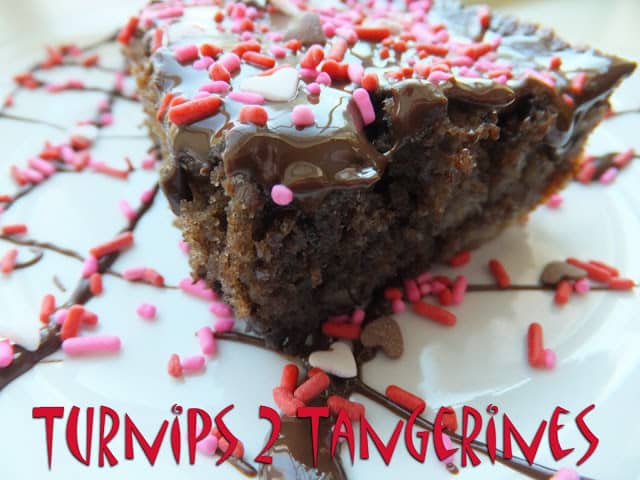 Banana Brownies with Chocolate Peanut Butter Glaze
Mashed banana's and chocolate chips make this brownies special but the peanut butter and chocolate glaze takes these brownies over the top.
Keyword:
Banana, brownies, chocolate chips, glaze, peanut butter
Ingredients
1/2

cup

butter, melted and cooled

1

cup

sugar

3

tablespoons

baking cocoa

2

eggs, lightly beaten

1

tablespoon

cold coffee or water

1

teaspoon

vanilla extract

1/2

cup

flour

1

teaspoon

baking powder

1/4

teaspoon

salt

1/2

cup

mashed ripe banana

1/2

cup

semi-sweet chocolate chips

1/2

cup

semi-sweet chocolate chips

2

T

peanut butter

Valentine sprinkles, optional
Directions
Make brownies. Preheat oven to 375 degrees.

In a medium bowl combine melted butter, sugar, and cocoa. Whisk in eggs, cold coffee or water and vanilla extract.

In a small bowl combine flour, baking powder and salt. Gently stir into egg mixture until combined. Stir in mashed bananas and semi sweet chocolate chips. Spread into a lightly greased 2-quart baking dish.

Bake at 375 degrees for 25-30 minutes or until toothpick inserted in the middle comes out clean. Remove from oven and cool on wire rack.

When brownies are cool, make glaze.

In a microwave-safe bowl, combine chocolate chips and peanut butter. Microwave on high for one minute or until chips are melted. Stir until smooth. Spread over cooled brownies.

Sprinkle brownies with Valentine sprinkles, optional.
Recent Recipe: Blood Orange Scones with Orange Glaze