We may earn money or products from the companies mentioned in this post.
Peppermint Sourdough Biscotti
Make your holiday extra special this year and make a big batch of Peppermint Sourdough Biscotti. A classic biscotti recipe is made even better with the addition of a sourdough starter and crushed peppermint candies. The chocolate glaze gives the biscotti a hint of sweetness. When making peppermint sourdough biscotti, be extremely careful when removing from the oven. The peppermint candies become very hot and sticky.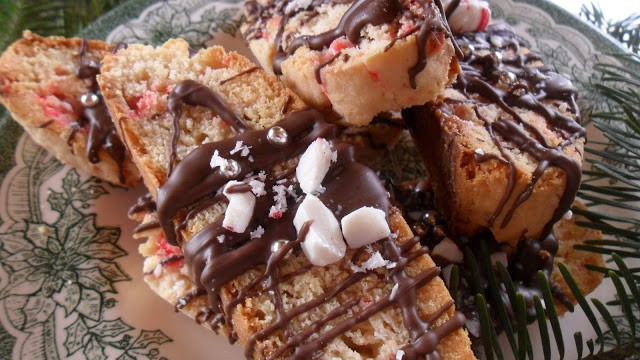 A Word About Biscotti
Biscotto; pl. biscotti pronounced [bee-SKAWT-toh; bee-SKAWT-tee] A twice-bakes Italian biscuit or cookie that's made by first baking it in a loaf shape, then slicing the loaf and baking the slices. The end result is an intensely crunchy cookie that is perfect for dipping into Dessert Wine or Coffee/Espresso. Biscotti can be variously flavored but the most popular additions are anise seed, hazelnuts or almonds.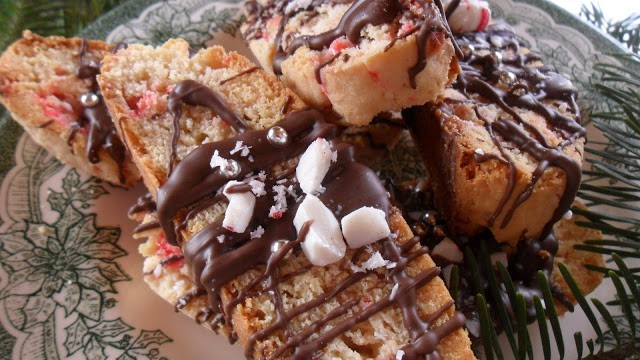 Peppermint Sourdough Biscotti
A delicious biscotti recipe made with sourdough starter and peppermint candy.
Course:
Cookies, Sourdough
Keyword:
biscotti, peppermint, sourdough
Ingredients
3/4

cup

butter, softened

3/4

cup

sugar

3

eggs

2

teaspoons

peppermint extract

1/2

cup

fed sourdough starter

3 1/4

cups

flour

1

teaspoon

baking powder

1/4

teaspoon

salt

1

cup

crushed peppermint candies

2

cups

milk chocolate chips or dark chocolate chips

2

tablespoons

shortening

1/2

cup

crushed peppermint candies
Directions
n a large bowl, cream butter and sugar.  Add eggs one at a time, beating well after each addition, beat in vanilla extract, then stir in sourdough starter.

Combine the flour, baking powder and salt. Stir in peppermint candies. Gradually add to creamed mixture, beating until blended (dough will be stiff).

Divide dough in half, on a baking sheet lined with parchment paper, roll each portion into a 12 x 2 inch rectangle. Bake at 350º for 25 to 30 minutes or until golden brown, carefully remove to wire racks.

Cool for 15 minutes. Transfer to a cutting board, cut diagonally with a serrated sharp knife into 1/2 inch slices, place cut side down on baking sheet lined with parchment paper, bake for 12 to 15 minutes or until firm.

Remove to wire racks to cool.

Make Chocolate Glaze

In a microwave proof bowl, melt chocolate chips and shortening. Stir until smooth.

Drizzle chocolate over biscotti, sprinkle with crushed peppermint candies.