On the Menu Today~
Pumpkin Spice Chocolate Chip Scones with
Cream Cheese Frosting~
The Perfect blend of Fall Flavors~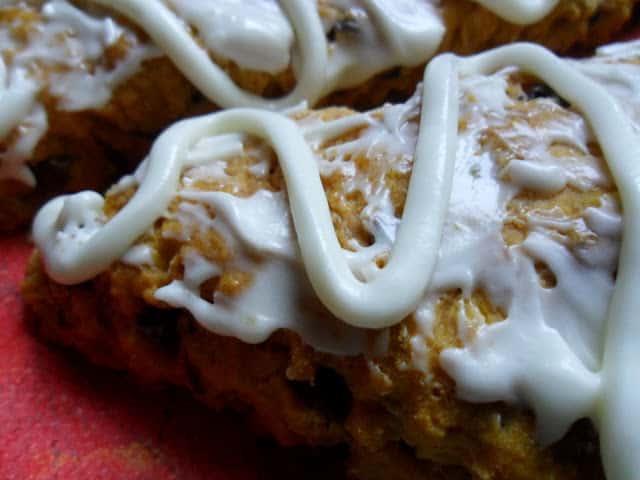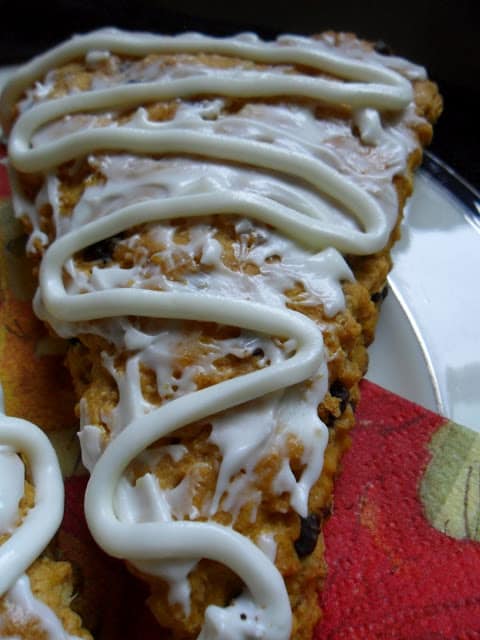 Pumpkin Spice Chocolate Chip Scones
Ingredients
2 1/2 cups




all-purpose flour

1 cup




rolled oats

1/3 cup




packed brown sugar

1 tablespoon plus 1 teaspoon




baking powder

1/2 teaspoon




baking soda

1/2 teaspoon




salt

1/2 teaspoon




pumpkin pie spice

1/2 cup




butter, cold and cubed

1




egg, lightly beaten

1/4 cup




apple juice

1/4 cup




milk

1/3 cup




canned pumpkin

1/2 cup




mini chocolate chips
Cooking Directions
Preheat oven to 425 degrees. Line baking sheet with parchment paper.
In large bowl combine flour, oats, brown sugar, baking powder, baking soda, salt, and pumpkin pie spice. Cut in butter until mixture resembles coarse crumbs.
In small bowl combine egg, apple juice, milk and pumpkin. Add milk mixture to flour mixture. Stir together. Fold in mini chocolate chips.
Turn dough onto well floured surface. Knead 5 to 10 times. Pat dough onto a 10 inch circle. Cut dough into 10 wedges. Place wedges on prepared baking sheet.
Bake scones for 12 to 15 minutes or until golden brown. Remove from baking sheet. Cool on wire rack.
Ingredients
1/4 cup




butter, room temperature

1 (8 oz) package




cream cheese, room temperature

1 teaspoon




vanilla extract

1 (16 oz) package




powdered sugar

2 tablespoons




milk, add one tablespoon at a time
Cooking Directions
Cream together butter and cream cheese, add vanilla extract and powdered sugar. Beat until creamy. Add milk, 1 tablespoon at a time until creamy. Frost scones.

Scones, Spice, Chocolate , Pumpkin,