We may earn money or products from the companies mentioned in this post.
Chocolate Rolo Zucchini Cake
Chocolate Rolo Zucchini Cake is a delicious cake that is made with a boxed cake mix, making it nice and easy. Doctoring up a boxed cake mix is one of the easiest way to give it that old fashioned taste. Your guests won't even suspect that this is a boxed cake mix. Topping the cake with chocolate chips, chopped walnuts and Rolo mini candies before baking, turns this fast and easy cake into a masterpiece.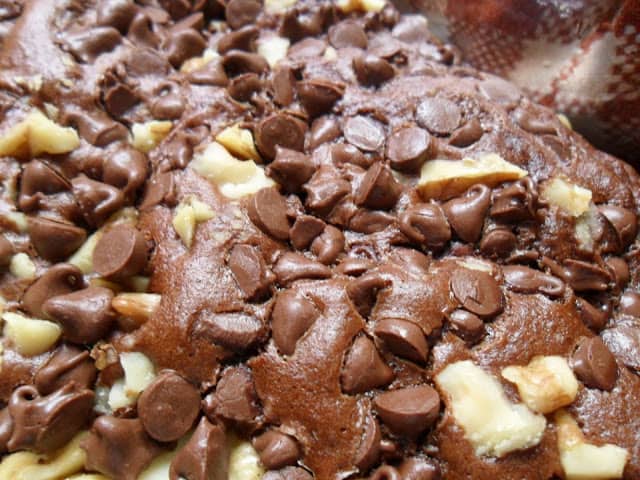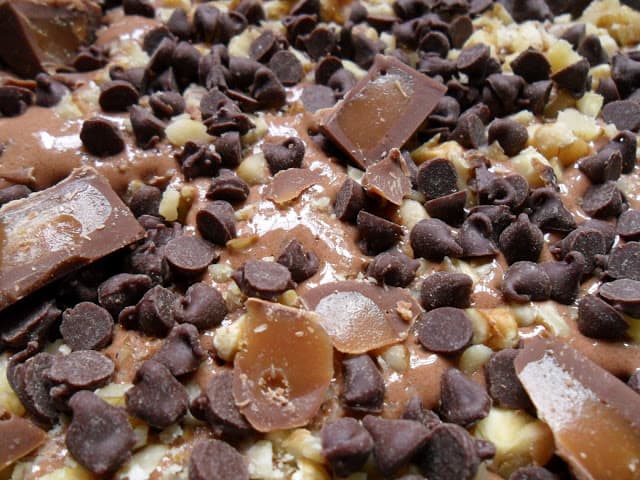 Brief History
Zucchini [zoo-KEE-nee] A popular summer squash shaped like a slightly curved cylinder; a bit smaller at the top than the bottom. A zucchini's skin color can vary from dark to light green, sometimes with yellow markings that give it a mottled or striped look. The off-white flesh has a very pale green hue and the flavor is light and delicate. Select small zucchini, which will be younger and therefore more tender, have thinner skins and less seeds.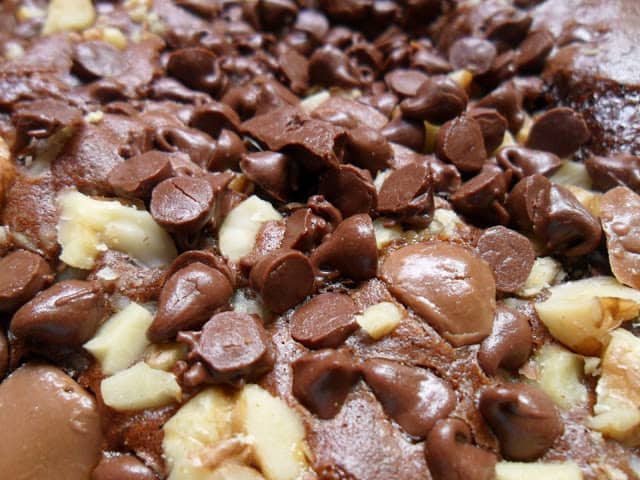 Chocolate Rolo Zucchini Cake
A fast and easy chocolate zucchini cake made with a boxed Devils Food Cake mix.
Keyword:
boxed cake mix, Chocolate, devils food cake mix, rolo candy, walnuts, Zucchini
Ingredients
1

box devil's food cake mix

1

cup 

water

1/2

cup 

vegetable oil

3

eggs

1/2

teaspoon

ground cinnamon

1/4

teaspoon

ground cloves and ground allspice

2

cups

fresh shredded zucchini

1/2

cup 

mini chocolate chips

1/2

cup 

chopped walnuts

1

2.5 oz package rolo mini's candy
Directions
Preheat oven to 350º Lightly grease 13 x 9 x 2 inch baking dish. Chill rolo minis's for 1 hour.

Squeeze excess water out of shredded zucchini

In large bowl beat cake mix, water, oil, eggs, ground cinnamon, cloves and allspice on low speed for 30 seconds, beat on medium speed 2 minutes. Stir in shredded zucchini. Pour into prepared pan. Cut chilled rolos in half.

Sprinkle mini chocolate chips, nuts, and rolo candy over cake batter.

Bake for 35 to 45 minutes or until toothpick inserted in center comes out clean.
Recipes To Try
Old Fashioned Chocolate Zucchini Cake is another chocolate zucchini cake recipe that is a made from scratch recipe and not a boxed cake mix. Both recipes are delicious. It just depends on how much time you have in your schedule. Looking for cupcake recipes?? We have a few! Easy Apple Cupcakes and Red White and Blue Cupcakes.