Oatmeal Jumble Bars
Oatmeal Jumble Bars are made with 
Rhubarb Cranberry Apricot Fruit Pie Filling 
A delicious mixture of rhubarb, cranberries and apricots. If you would rather not make this yummy filling, even though you really should, you can easily substitute any fruit filling of your choice. You can certainly use just a plain rhubarb filling also. 
Solo
 has many wonderful pie fillings to choose from; date, poppy seed or prune to name a few.
An Easy Bar Recipe
Oatmeal Jumble Bars is a basic oatmeal bar recipe that is made with oatmeal, flour, brown sugar, shortening, spices and chopped walnuts. Half of this mixture is pressed into a prepared baking dish. Then topped with your favorite fruit filling or topped with rhubarb cranberry apricot filling. The remaining crust mixture is then sprinkled over the fruit filling and baked in the oven for 30 minutes or so. Easy and Delicious.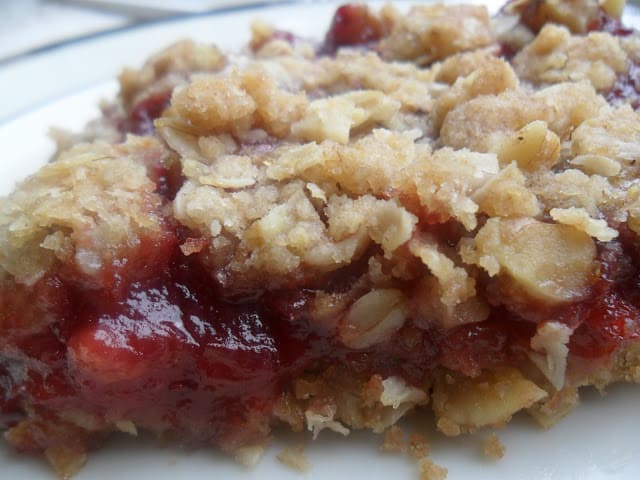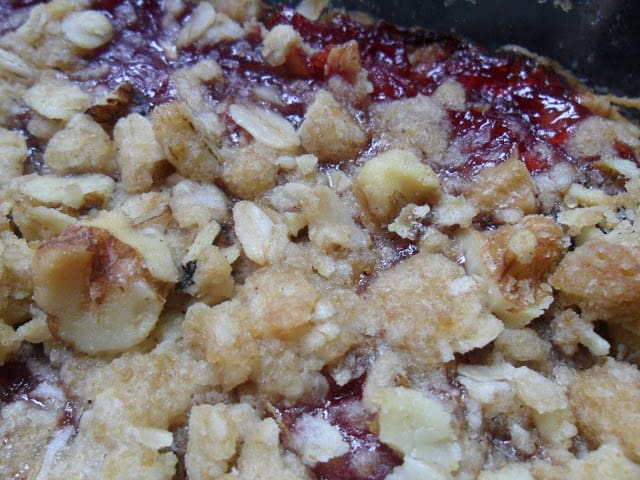 Top with Ice Cream
Boy, do these bars smell good while baking and better yet, they taste even better! Oatmeal Jumble Bars are delicious served with vanilla ice cream. Remove the bars from the oven when golden brown and filling is bubbly. Cool for about 15 to 30 minutes and serve with big scoops of vanilla ice cream or an ice cream flavor of your choice. Mix it up and try a cinnamon flavored ice cream or even coffee flavored. (Well maybe not coffee)
*Make up a batch or two of these delicious oatmeal jumble bars and watch how fast they disappear!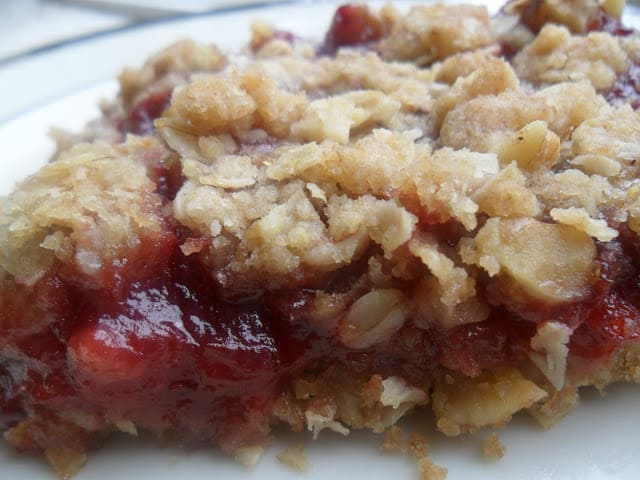 Oatmeal Jumble Bars
Oatmeal Jumble Bars are made with a homemade rhubarb, cranberry and apricot pie filling or you can use your favorite pie filling.
Keyword:
Apricot, bar, cranberry, oatmeal, Rhubarb
Ingredients
3

cups

Rhubarb Cranberry Apricot Fruit Pie Filling OR 3 cups pie filling of your choice

1 1/2

cups

flour

1 1/2

cups

rolled oats

1

cup

packed brown sugar

1/4

teaspoon 

baking soda

1/4

teaspoon 

salt

1/2

teaspoon 

cinnamon

1

cup

shortening (such as Crisco)

1

teaspoon 

lemon zest

1/2

cup

chopped walnuts or pecans
Directions
Lightly grease 13 x 9 inch baking dish, Preheat oven to 375º

In a medium bowl, combine the flour, rolled oats, packed brown sugar, baking soda, salt and cinnamon. Using a pastry blender, cut in shortening until mixture resembles coarse crumbs.

Stir in lemon zest and chopped nuts.

Reserve 1 cup of crumb mixture for topping.

Press remaining mixture into the bottom of prepared baking pan. Evenly spread fruit pie filling over top. Sprinkle with reserved crumb mixture.

Bake at 375º for 30 to 35 minutes or until top is golden brown and fruit pie filling is bubbly.

Cool in pan on wire rack.

Serve warm with vanilla ice cream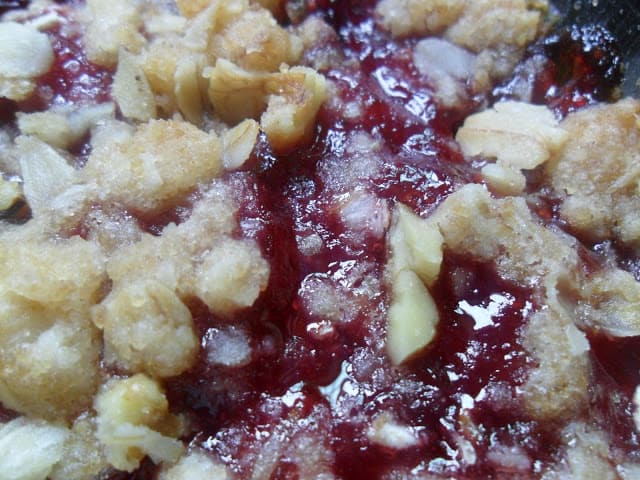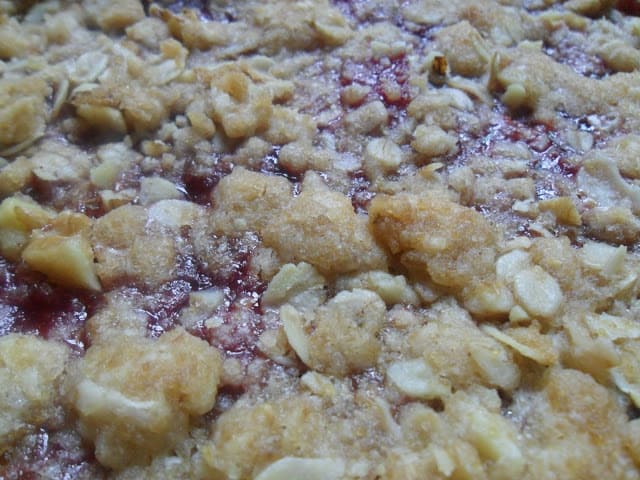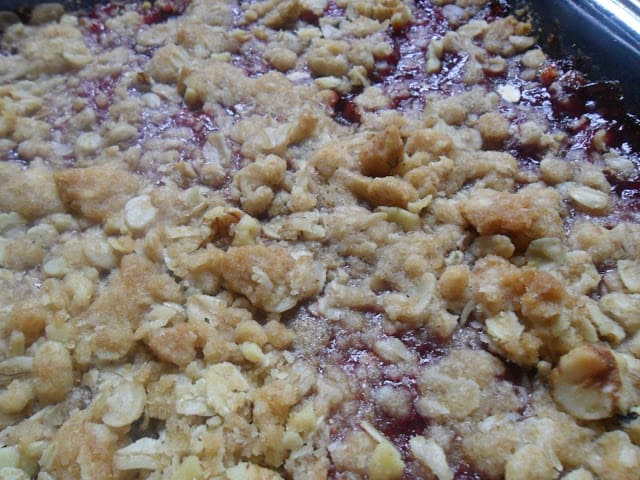 Do you like rhubarb as much as we do? Check out our 
Recipe Box
 for more recipes using rhubarb.