Sourdough Surprises~ Cinnamon Rolls!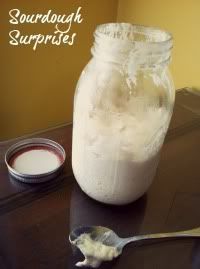 Everyone loves Cinnamon Rolls and I have never meet a Cinnamon Roll I didn't like:) Sourdough Cinnamon Rolls are sweet and gooey but they also have a nice tangy flavor. The recipe I used to make sourdough cinnamon rolls, is a recipe from
Dog Island Farm
. I have made this recipe before with wonderful results, so when the challenge was going to be for Sourdough Cinnamon Rolls, I knew what recipe I was going to make. I changed the recipe slightly. I added a Cherry Date Filling~ Dried cherries, chopped dates, with a jigger or two of Brandy! Well Heck Yes!! The cinnamon rolls turned out fantastic, wonderfully sweet, nice and tangy, and ooey, gooey from the filling! The glaze added another layer of yum:) This recipe makes 12 rolls which is great because these rolls need to be eaten right away. The hubby and I each polished off 3 a piece and after sitting over night, the rest became a little soggy from the filling. I did reheat them in the oven wrapped in tin foil and they were good but much better eaten the day made. If you would like to join in on the fun go to:
Sourdough Surprises
for more information:)
Sourdough Cinnamon Rolls with Cherry Date Filling~
Cherry Date Filling~
10 oz pitted dates, chopped
5 oz dried cherries, chopped
2 T sugar
1/8 t salt
1 cup water
1 or 2 jiggers Brandy, optional
In a small saucepan combine chopped dates, dried chopped cherries, sugar, salt, water and brandy, if using. Bring to a boil, reduce and simmer uncovered for 10 minutes or until dates and cherries are very soft and mixture is thickened. Set aside to cool. Transfer mixture to a small bowl when cool and refrigerate over night. Take mixture out of refrigerator and allow to come to room temperature before using as filling in sourdough cinnamon rolls.
Sourdough Cinnamon Rolls~ with Cherry Date Filling~
1-1/2 cups fed sourdough starter, stirred down, (roughly 3 cups frothy)
2/3 cup milk
2 T sugar
1-1/2 t vanilla extract
1 T butter, melted
1 t salt
2-3 cups unbleached white bread flour
1/2 t baking soda
Filling:
2 T melted butter
1/3 cup sugar
1-1/2 t ground cinnamon
Cherry Date Filling
Glaze:
1/4 cup confectioners' sugar
1 T milk
1/4 t vanilla extract
Make sure sourdough starter is fed and active.
Baking Day:
Measure out 1-1/2 cups stirred down sourdough starter into a large bowl. Add to it, the milk, vanilla extract, melted butter, salt and 2 cups flour. Stir/knead this together to make a very sticky dough. Add up to 1 cup more flour if needed. Turn out onto a floured surface and knead by hand. Sprinkle in the baking soda and make sure it is thoroughly incorporated. Roll dough into a ball and place it in the bottom of a greased bowl. Cover the bowl with plastic wrap and place in a warm area to rise. This rise should take 2-3 hours. The dough should double in size.
When the dough has risen, turn it out onto a floured surface. Pressing all the air bubbles out as you go. Roll the dough into a rectangle, roughly 9 x 18.
Mix together 1/3 cup sugar and 1-1/2 t ground cinnamon. Brush the rolled dough with 2 T melted butter. Sprinkle with 1/2 of the cinnamon/sugar mixture. Spread Cherry/Date filling over cinnamon/sugar mixture. Sprinkle with rest of cinnamon/sugar mixture. Starting on one of the long sides, roll the dough into a long log; slice log into 12 rounds and place rounds, cut side down in buttered glass 2 quart, baking dish. Cover with plastic wrap and let rise for 2 hours or until doubled in size.
Bake Cinnamon Rolls at 350º for 20 minutes and top is golden brown.
Meanwhile make Glaze:
Whisk together all glaze ingredients.
Remove rolls from oven. Pour glaze over rolls in pan while rolls are still hot.
Enjoy~
Wonderful Wednesday
Full Plate Thursday
Empty Your Archives